Solid Edge SP for Design Management
Solid Edge SP (Solid Edge for SharePoint) Provides a Visual Approach to Design Management Resulting in Faster Project Completion
Solid Edge SP is a design management solution that provides easy vaulting and retrieval of Solid Edge files and related design data, along with a visual approach to managing linked documents, product structures and projects. Solid Edge SP simplifies and automates error-prone processes, such as new product introduction, engineering change and release to manufacturing. This straightforward approach to managing complex data simplifies your design world, enabling you to meet and exceed your targets for design project completion.
Solid Edge SP is based on Microsoft SharePoint®, a leading collaboration platform that is already deployed by many manufacturing organizations. Solid Edge SP includes a preconfigured environment for fast deployment, and simple configuration tools so the standard deployment can be quickly tailored to meet your company's specific needs.
Using Solid Edge SP, you can quickly get control of growing volumes of engineering data and benefit from faster design project completion and fewer errors in your manufacturing processes.
Simplify Your Design World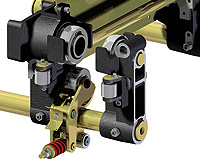 Solid Edge SP meets the needs of Solid Edge users who are struggling to manage growing volumes of design data. Part and assembly models, properties data, product structures and model-to-drawing relationships are all automatically captured and stored in the secure SharePoint vault. You can easily search for and retrieve the data you need both when working within Solid Edge using the powerful web client; and then share this data in a controlled way with suppliers and customers.
A Visual Approach to Design Management
Dynamic visualization of product structures, engineering change requests (ECRs), engineering change orders (ECOs), related documents and complete design projects is a key feature of Solid Edge SP. You have the flexibility to display data and relationships in traditional lists and tree structures, as well as by using more dynamic balloon displays. Using visual tools to present design data results in higher comprehension and fewer errors in design and manufacturing.
Faster Design Project Completion
Design data can be organized using folders, collection carts and projects, giving you simple and flexible ways to manage complex data. Solid Edge SP also supports ECR and ECO management for consistent completion of these critical engineering tasks and faster project completion.
New Capabilities in Solid Edge SP ST8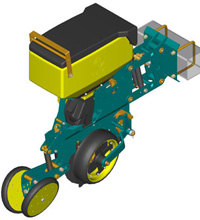 For the ST8 release of Solid Edge SP, important new capabilities include the addition of a mini-browser to the Preview/Properties Card that displays related documents and properties through the history of the selected part, and enables direct execution of common tasks on part revisions and documents. A new "quick-find" utility in the Content Browser enables easy searches on long lists of parts. Additional capabilities for electronic workflows include the ability to automatically output translated files, for example creating DXF files of sheet metal flat patterns for manufacturing, PDF files of drawings for release to manufacturing, and reports to transfer bill-of-materials information to ERP systems.
Easy Implementation on Existing IT Infrastructure
Solid Edge SP users benefit from fast implementation of a preconfigured design management environment. You can be in production and have improved control of your design data within a few days. Solid Edge SP runs on SharePoint Foundation, which is included with the standard Windows Server® operating system.
Need PLM? Solid Edge Integrates with Teamcenter
Using the Solid Edge Embedded Client, you can integrate your Solid Edge data with the comprehensive product lifecycle management (PLM) capabilities of Teamcenter. Using Teamcenter Rapid Start, Solid Edge users can get started quickly and cost-effectively with PLM and take advantage of comprehensive multi-CAD data management capabilities.