NX CAM 11
Cut programming time by 60 percent with NX CAM 11 software
Powerful industry-specific CAM software capabilities for mold and die machining, production machining, complex parts machining, and shop floor connectivity, have been specially-designed to dramatically increase your overall manufacturing productivity in NX CAM 11.
Mold and Die Machining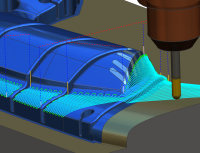 Smooth consistent on-part step-overs provide fine finishes across even imperfect imported geometry. And fine finishes in corners and valleys are achieved with careful attention to cutting directions in steep and non-steep areas. These optimized cut directions make for more consistent semi-finish results as well, so the improvement is compounded for finish machining. Multi-thread processing takes better advantage of multi-core hardware to achieve calculations up to 50 percent faster.
Production Machining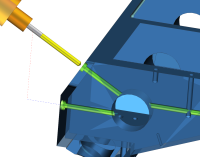 You can automate the programming of prismatic features and, more importantly, minimize the cycle time on the machine tool with NX 11. Hole-making is a significant focus for production manufacturers, because holes make up a large part of this type of machining. NX CAM provides several efficiency improvements and more automation for hole- making, including new optimized operations for deep-hole and sequential drilling. These new methods yield reduced cycle times and 60 percent faster programming.
Complex Part Machining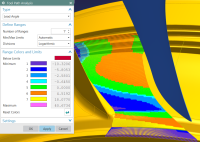 New capabilities in NX CAM software allow easy analysis of complex 5-axis machine behaviors. You can optimize the machining conditions by visualizing tool path characteristics, including: tool lead angle; rotary axis positions, with over-travel limits; rotary axis speeds to detect reversals and; short and long segments.
Shop Floor Connectivity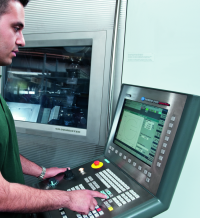 NX CAM software produces a complete work package for the shop floor, but also is able to link systems for data and process management. NX CAM creates post processors right in the NX environment, where the post's kinematic definition comes automatically from the digital model of the machine tool. The new DNC Connect hands off complete work packages from NX CAM to the managed DNC system and onto the CNC machine tool, ensuring that the right manufacturing data is used at the point of production.