KCD for Point Cloud software is a component that builds on Kineo Collision Detector to perform point cloud collision detection and distance measurement on the data obtained from laser/optical scanners.
There is no requirement to reconstruct polyhedrons from the point cloud data prior to analysis. Collisions and distances can be queried between two point clouds or between a point cloud and polyhedrons.
KCD for Point Cloud can be used with KineoWorks to find collision-free trajectories for objects in a point cloud environment. Applications include robot navigation, accessibility studies in ships and factories and more.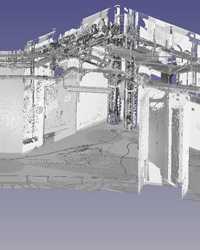 Key Capabilities and Benefits
Capabilities
Handles point cloud data natively (that is, without reconstruction)
Outputs a Boolean collision status in all analysis modes
Outputs the shortest distances or estimate of shortest distance between objects depending on analysis mode
Benefits
Performs collision checks and distance measurement on point clouds without constructing meshed polyhedrons
Includes multi-threading for optimal performance and low memory consumption
Is built on same robust software architecture as Kineo Collision Detector