Solid Edge Educator Resources
Siemens PLM Software provides secondary school to university educators with industry-leading technology to support the teaching of product design and science, technology, engineering and mathematics (STEM) for educational programs that meet or exceed student and industry needs. Resources are developed by teachers for teachers.
For Middle School and High School Educators
Middle school and high school play an essential role in educating future engineers and product designers. It's at this stage in their education that many students first experience the spark that ignites their passion for design and engineering.
Siemens Solid Edge Teacher Edition enables teachers to prepare junior and high school students for the future of engineering and product design, and experienced students can take an online examination and get certified in Solid Edge.
Download Free Siemens Solid Edge Software
Secondary school teachers and officials may use the Solid Edge Teacher Edition in design, engineering and STEM-related courses, including educational after-school clubs and extracurricular activities — at no cost (free). Download the Solid Edge Teacher Edition today.

To get your free download today, select the option below that applies to your school:
For College and University Educators
Professors at the college and university level can provide students with the knowledge and skills to help secure engineering or product design careers. Siemens PLM Software offers colleges and universities a comprehensive family of modular, integrated PLM technology to help educators meet the mechanical design software and educational needs of these college students. To get Solid Edge for your academic institution or for more information, contact your local channel partner or the Solid Edge Academic Team in your region: Americas, EMEA or Asia Pacific. Your students can also take an online examination and get certified in Solid Edge
High School Tutorials
DownForce Racer

Row Boat

Front Loader

STEM classroom lectures

STEM Project Curriculum

Greenpower Steering Wheel

Introduction to Finite Element Analysis

Introduction to Mechanical Systems

Introduction to Surfacing

Wind Power
College and University Curriculum
Solid Edge for Engineering Students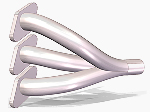 This semester-length course teaches students how to model. Engineering concepts are presented along with Solid Edge functions and modeling techniques. Instructors lecture from PowerPoint modules, which also launch videos, in-class activities and data files. Students bring their laptops to class so that they can participate. A study guide is provided. Supplemental materials stimulate creative, artistic thinking and 3D design with additional practice in non-traditional 3D CAD modeling.
View:
Introduction to 3D Modeling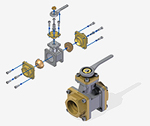 This undergraduate semester-long curriculum includes lecture notes, classroom presentations, videos and assignments.
Download: