Analyses visuelles et validation
Synthèse visuelle des informations produits et processus
A partir des dernières données de l'entreprise vous contrôlez l'évolution, gérez les risques, trouvez des solutions aux problèmes d'impact, ce qui vous amène à prendre des centaines de décisions. Siemens PLM Software fournit des analyses visuelles des produits et des outils de validation qui vous permettent de synthétiser rapidement les informations, de vérifier les conceptions quant à la conformité des exigences et de prendre des décisions avisées.
Rapport visuel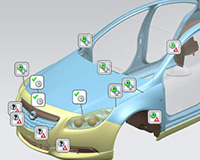 NX fournit un rapport visuel 3D HD afin de vous aider à collecter instantanément les données d'entreprise demandées et d'en visualiser directement l'impact dans le contexte de la conception 3D.
En savoir plus :
Conception et validation des exigences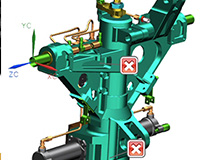 La validation vous aide à garantir la qualité des produits, ainsi qu'à réduire les erreurs et le recours au réusinage. Les outils de contrôle de validation NX fournissent une interaction visuelle directe, ce qui accélère la validation des conceptions produits par rapport aux exigences, et vous permet de repérer et de résoudre les problèmes de qualité.
En savoir plus :
Design for Manufacturing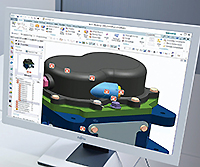 Design for manufacturing can help you significantly reduce engineering change orders (ECOs), manufacturing defects, costs and delays. DFMPro for NX gives you high-definition 3D tools that automate and formalize the design review process for manufacturability, helping you identify design issues that are difficult, expensive or impossible to manufacture.
Learn more about:
Simulation de la conception pour la validation des performances
Avec des outils de simulation thermiques et structurelles intégrés à la conception dans NX, vous pouvez rapidement comparer les alternatives de conception et optimiser les caractéristiques de performances dès les toutes premières étapes du processus de conception.
En savoir plus :
Molded Part Validation and Injection Molding Simulation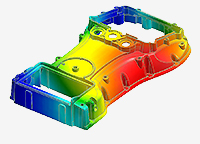 NX offers a range of tools that help you assess the moldability of plastic parts. These include validation checking, which helps you identify features that could compromise injection molding, and mold filling simulation, which helps optimize the process and improve part quality.
Learn more about: