Shop Floor Integration
Improve factory operations with PLM and MES systems integration
When factory operations are designed, engineered and simulated with the support of product lifecycle management (PLM) solutions, an effective transition from this virtual factory to the physical world is key to meeting the time, cost and quality targets required to achieve a manufacturer's profitability goals.
Siemens PLM Software helps eliminate virtual-to-physical transition issues by providing a two-way integration between PLM and shop floor operations. Our shop floor integration solution provides direct communication of manufacturing work instructions to factory operation control systems, such as a manufacturing execution system (MES). This PLM-MES integration increases execution efficiency as the most current work plans are easily accessible to shop floor operators which improves the communication between planning and production departments.
PLM-MES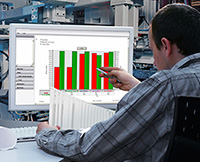 A PLM to MES solution extends the PLM footprint to the manufacturing shop floor. This allows for accelerated product launches, continuous process improvement, regulatory compliance and increased operational efficiency. All of a product's lifecycle data becomes an integrated base of knowledge that drives innovative and profitable products to market.
Learn more about: