Kineo Flexible Cables
Cable simulation and stress analysis for digital manufacturing
Kineo™ Flexible Cables is a software component for compliant cable simulation that models the deformation and configuration of cables, such as pneumatic hoses and electrical cables. It is particularly suited to robotics simulation and control applications, where flexible cables may be subject to large deformations and high stresses in complex motion environments.
A high-performance, physics-based solver enables simulation of multiple cables and supports user-interaction with the simulation environment in real-time. Fully-integrated contact and clash detection ensures that cables respect collision-free motion in the virtual environment. Stress calculations enable users to predict cable tension, flexion and torsion, while effects of gravity, cable inertia and geometric non-linearity are automatically accounted for.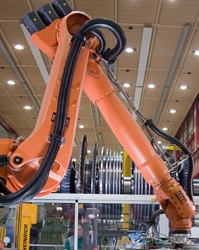 Enhanced robot simulation
Robot cables endure complex motion and variable stress, including bending and torsional forces, which can increase manufacturing downtime as a result of cable failure. Kineo Flexible Cables enhances digital simulation environments by predicting cable performance in the virtual prototype. This ensures delivery of higher-quality manufacturing solutions with reduced long-term deployment costs.
Ease-of-integration
Kineo Flexible Cables is a software component that has been carefully designed with OEMs and System Integrators in mind. Its portable architecture enables flexible integration with existing software systems. To learn how new software applications based on Kineo Flexible Cables are easy to build, discover our complementary developer toolkit, KineoWorks™ Interact.