LMS SCADAS Mobile
Powerful and flexible mobile testing hardware supporting a wide range of noise, vibration and durability testing applications
The LMS SCADAS Mobile data acquisition hardware gives you high acquisition power in a compact and lightweight mobile testing solution with integrated signal conditioning offering versatile data acquisition capabilities. LMS SCADAS Mobile is seamlessly integrated with the LMS Test.Lab and LMS Test.Xpress software platforms. LMS SCADAS Mobile offers a broad variety of features including:
From 8 to 216 channels
Compact size and low weight
Rugged design for extreme conditions/temperatures
MIL-STD 810F for shock and vibration
Master/slave configurations
DC Automotive compliance (9-42V)

Ultra-quiet, no-fan operation
IRIG-B and CAN-bus support
Up to 204.8 kHz sampling rate per channel
24-bit ADC technology
150 dB dynamic range
On-board dual tacho and signal generator
High-speed Ethernet host interface
For vibration control applications, you can use the LMS SCADAS Mobile as a dedicated modular frontend with connectivity for hardware emergency stop. Additional features include:
24-bit effective DAC output with tapered startup and shutdown
Status output for advanced synchronization purposes
Safety control via hardware emergency stop and power watchdog
¿Está interesado en esta solución?
LMS SCADAS Mobile 01 Mainframe

The LMS SCADAS Mobile 01 mainframe is a practical and ultra-portable unit that provides you with four to 24 channels, ultra-lightweight and robust frame and nominal 2.5-hour battery autonomy.
LMS SCADAS Mobile 02 Mainframe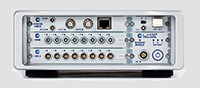 The LMS SCADAS Mobile 02 provides optimal flexibility and channel density with up to 48 input channels; compact and robust frame; and nominal 1.5-hour battery autonomy.
LMS SCADAS Mobile 05 and 09 Mainframes

The LMS SCADAS Mobile 05 and 09 mainframes offer maximum mobile measurement power and provide you with 8 to 120 channels in 05, 8 to 216 channels in 09, laptop-size robust frame with extensive channel density and nominal 1-hour battery autonomy.
LMS SCADAS Mobile 03S, 06S and 10S Slave Frames
The LMS SCADAS Mobile slave frames expand mobile testing measurement to hundreds of input channels and provide you with these features:
Accommodation of 8 to 72 channels with 03S
Accommodation of 8 to 144 channels with 06S
Accommodation of 8 to 240 channels with 10S
True master/slave configuration beyond clock synchronization with ability to fully synchronize and save data in one measurement file
Easy mechanical locking of frames to one unit
Distributed acquisition through optical cabling