LMS SCADAS Data Acquisition Systems
Broad range of data acquisition systems for optimal testing productivity
The LMS SCADAS suite of data acquisition systems delivers the data quality and format that you require for all types of noise, vibration and durability measurements in the laboratory or in the field. Depending on your needs, you can use a LMS SCADAS system as an autonomous recorder or as a frontend connected to a personal computer. Seamless integration with LMS Test.Lab and LMS Test.Xpress software helps you accelerate measurement setups and delivers correctly formatted results. LMS SCADAS provides you with best-in-class data acquisition for reliable results and optimal testing productivity.
LMS SCADAS data acquisition systems cover a broad range of engineering applications for all kinds of manufacturing industries and help you develop better products in a shorter timeframe.
Added Flexibility with Lab Mobility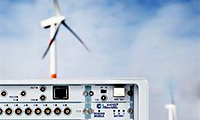 Lab mobility describes the capability to connect different LMS SCADAS frames to optimize testing productivity. Lab mobility provides you with additional flexibility and helps you save time by allowing you to directly connect a LMS SCADAS Lab to a LMS SCADAS Mobile, LMS SCADAS Recorder or LMS Pass-by Noise Hardware for additional measurements, without creating a new test setup.
On-demand Channel and Signal Conditioning
Lab mobility allows you to supplement a rack-mounted LMS SCADAS Lab system with a selection of LMS SCADAS Mobile units for additional channel capacity on-demand or for specialty work that requires different signal conditioning. The LMS SCADAS suite gives you a scalable solution to meet your capacity needs and sophisticated testing requirements.
Simplified Test Setups
LMS SCADAS modules provide integrated signal conditioning and support a variety of transducers, such as strain gauges and accelerometers, which allows you to capture a broad range of sensors in a single test run. A universal module is also available to take noise, vibration and durability measurements without separate devices or modules.
Top Performing Growth Investment
LMS SCADAS can scale to hundreds of channels and offers a 14MSamples/s data transfer rate. As industry needs change with the trend toward more complex testing, LMS SCADAS can protect your hardware investment by providing you with a scalable solution to increase number of channels and performance.
Superior Data Quality for Effective Testing
The LMS SCADAS system provides you with built-in process understanding; the system lets you skip classic steps such as auto-ranging. This saves you time and helps you eliminate risk of errors. The data is delivered in the purest state possible with low noise, no unnecessary conversion and minimal human error. Quality cables and rugged connectors help ensure a high-quality data acquisition process.
Optimized Investment and Reliability
There is a LMS SCADAS signal conditioning and data acquisition system to match your requirements, from compact mobile units and autonomous smart recorders to high-channel-count laboratory systems. With a large variety of supported transducers and signal conditioning, the LMS SCADAS systems are optimally tuned to meet your specific needs of noise, vibration and durability testing.
The Quality Leader in Data Acquisition Systems
The LMS SCADAS platform brings proven technology into your lab environment including signal conditioning, choice of connectors and high throughput. LMS SCADAS provides you with high precision data including state-of-the-art capabilities for limiting harmonic distortion and best-in-class inter-channel specifications with a phase match better than 0.2˚ at a frequency of 10 kHz.