Rotating Machinery Testing
Mastering the complexity of vibro-acoustic testing related to rotational frequency
Understanding the sound and vibrations produced by engines, compressors, electrical motors, pumps and shafts is a complex process. Whether you are performing measurements in an engine test cell, in a vehicle on the proving ground or on a pump in the field, Rotating Machinery Testing will help you engineer quiet, efficient and reliable products.
Through measuring and analyzing signal phenomena related to rotational frequency harmonics of the engine/motor, you can identify orders and determine structural operating conditions through the separation of rotational and structural noise and vibrations, critical speed identification and structural resonances. You can also combine torsional vibration and acoustic measurements to evaluate operational behavior, investigate instabilities in the rotating equipment and expose accuracy and structural integrity problems.
Rotating Machinery Testing measures everything in parallel and you can:
Track signatures
Record temperature, pressure, strains and other speed references
Compute orders using high-speed digital filters
Throughput raw time data and monitoring sound fields
Eliminate repeat testing and time before postprocessing
Even in demanding operating conditions, you need to be able to perform tests that yield reliable data. LMS Test.Lab and LMS SCADAS make in-vehicle measurements in rough environmental conditions possible.
LMS Test.Lab Rotating Machinery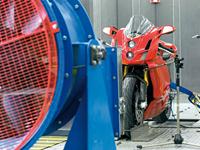 LMS Test.Lab Rotating Machinery provides machinery vibration analysis capabilities to help make the measurement and analysis processes as efficient, productive and user-friendly as possible.
Learn more about:
Torsional Vibration Analysis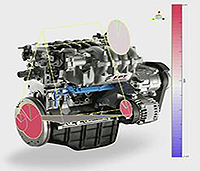 Torsional vibrations decrease the operational efficiency of engines and rotating equipment and may cause equipment failure. Learn more about the theory of torsional vibration measurement and analysis and read about industry examples.
Learn more about: