Siemens PLM Electronics Partner Program
Siemens PLM Electronics Partner Program provides customers around the world with the highest quality and greatest variety of products, services, and solutions to maximize their investment. Our partners offer access to solutions and expertise by, industry, domain, geography, business strategy, technology need and service level. Our partner program connects the right partner with the right customer to implement the right solution.
Software and Technology partners provide you with products that extend and enhance our offerings. Partner products allow you to enhance your productivity by offering:
Complete solutions
Best-in-class applications
The ability to leverage your existing IT infrastructure
Interoperability within and beyond your organization
Our commitment to openness provides a unique opportunity for software and technology companies to partner with us to enable the best NPI and MES solutions for our customers.
Assembléon Netherlands B.V.
Headquarters: Veldhoven, the Netherlands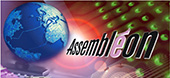 Assembléon is a global supplier of Surface Mount Technology (SMT) Pick & Place solutions for the electronics manufacturing industry. Assembléon is a trustworthy partner, providing full application support, training and services. Offering products that can be easily integrated into your manufacturing environment, ensuring your equipment runs competitively at all times. Customers include some of the leading players in industries such as consumer, personal computer and automotive electronics, as well as more specialized fields like module manufacturing and semiconductor backend.
View the Assembléon Netherlands B.V. web site
Siemens Assembleon Strategic Partnership
Assembleon contracted to supply Tecnomatix brand SMT programming software, offered with their SMT equipment. Siemens is a Strategic Partner for Assembleon and one of the preferred SMT programming vendors. Siemens is also a Technical partner for Assembleon.
Mentor Graphics Corporation
Headquarters: Wilsonville, OR

Mentor Graphics Corporation (Nasdaq: MENT) is a world leader in electronic hardware and software design solutions, providing products, consulting services and award-winning support for the world's most successful electronics and semiconductor companies. Established in 1981, the company reported revenues over the last 12 months of about $675 million and employs approximately 3,700 people worldwide.
ECAD design solutions from Mentor Graphics, together with PLM solutions from Siemens PLM, jointly address the existing electronics manufacturing install base, providing an end-to-end solution for the entire product lifecycle. By complementing the enterprise PLM with a highly specific and preconfigured solution for ECAD design, Siemens PLM customers can minimize their TCO and significantly accelerate the design process by eliminating error-prone and time consuming tasks and providing upfront DFx feedback.
Teradyne Inc.

A global leader in electronics testing and inspection solutions serving the world's leading original equipment manufacturer and electronics manufacturing services suppliers. ATD's Products and services include: Assembly Test, In-Circuit Board Test Systems, Functional Test Platforms, Automated X-Ray Inspection, Military and Aerospace Test Solutions, Test, Design & Analysis Software, System Upgrade, Software and Parts, Factory Reconditioned, and Service Offerings.
View the Teradyne Inc. web site
Siemens Teradyne Strategic OEM Agreement
Teradyne re-brands Siemens PLM Test Expert software provided with their Spectrum In-circuit Test Equipment. Also provides embedded Siemens PLM CAD Translators in their Test Station SW Solutions. A partnership that strengthens both our software solution as a preferred solution for Teradyne and their ability to provide adaptable solutions to the PCB manufacturing industry.
Texmac Inc.

Providing Complete Solutions for Your Production Process
Texmac brings its solutions formula to a diverse array of industrial segments, yet does so with a unified focus: offer only the highest-quality solutions in products and services. The first Takaya flying probe tester, introduced in 1986, was founded on a very simple principle---to provide a fast, easy to use, and dependable fixtureless tester for the manufacturing world. Since that time the Takaya flying probe tester has gained a worldwide reputation for excellence. Now in its 6th generation, the Takaya flying probe tester continues to remain the #1 name and choice with the leading manufacturing companies around the world.
Siemens Texmac Re-Seller Agreement
Texmac supply Test Expert software with all their Takaya Fixtureless Testers. A partnership that strengthens both our software solution as a preferred and guaranteed solution for Texmac and their ability to provide adaptable solutions to the PCB manufacturing industry.
WISE Software Solutions, Inc.

Integrated CAM Tools for PCB Post-Processing Solutions
Since forming in 1989, WISE Software's primary goal has been to provide the highest level of software quality and customer satisfaction possible to the PCB Post-Processing industry. "Innovation and leading edge features, at a price you can afford" is what sets WISE Software apart from the competition.
Users worldwide have come to know WISE Software through the GerbTool product family. GerbTool is a robust suite of PCB CAM tooling and analysis software. From basic visual verification to advanced Analysis, automated manufacturing preparation, panel layout and optimization, documentation generation, communications and more. GerbTool provides all the functions you need to ensure the production of high-quality PCBs while reducing cycle times and time-to-market.
View the WISE Software Solutions, Inc. web site
Siemens WISE Strategic OEM Software Agreement
WISE provides Gerber Reverse engineering technology founded on its GerbTool product family to Siemens PLM. Providing the solid base for Siemens Gerber Expert reverse engineering solution for the PCB manufacturing industry.