Requirements Management
Capture and communicate requirements to guide the right decisions to deliver the right products
Studies repeatedly show that no development process will result in a successful product offering unless the products you deliver are rigorously aligned and continually verified against accurate marketplace requirements and customer expectations. Requirements management provides the guidance your teams need to develop and deliver the right products.
Product requirements come from a variety of dynamic sources in the form of governmental regulations, industry standards, company mandates, market needs, contractual commitments and consumer expectations. Not only do you need to keep up with the ever-changing requirements from these sources, but you also need to update and share your product requirements within your product development and manufacturing teams, as well as your supply chain, in order to keep your products compliant.
The Teamcenter requirements management solution can help you capture and communicate requirements from every source to product decision-makers. By integrating requirements management with product lifecycle management (PLM), requirements are elevated from isolated, standalone spreadsheets and documents to be visible to everyone who participates in the product lifecycle. With the Teamcenter requirements management solution, you can accurately trace, continuously verify and reliably maintain requirements information across your organization. Whether you work in product development, manufacturing or the supply chain, you can refer to requirements to make the right decisions to deliver the right products.
Easily Capture, Share and Maintain Requirements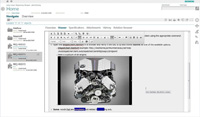 With the Teamcenter requirements management solution, you can establish a single, secure source of requirements. You can create, edit, review and approve requirements from your computer or mobile device using familiar Microsoft Office® applications like Word and Excel®. You can import and exchange requirements documents with other tools and standard formats. Once requirements are captured in Teamcenter, you can easily search, access and maintain them in the same PLM system you use to manage the rest of your product information. Requirements are easy to find, share and re-use across multiple products or projects.
Connect Requirements Management with Project Plans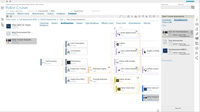 If your product or contractual requirements include schedule and cost targets, you can use the Teamcenter requirements management solution to connect requirements to projects, tasks and resources. You can monitor your requirements and program constraints to make the best design decisions or delivery commitments. With this level of requirements traceability, you have better visibility into project status, risks and the potential impact of change.
Continuously Verify Requirements and Establish Accountability
When requirements are managed in isolated, standalone spreadsheets and documents that only a few people can see, the requirements are difficult to maintain as the product changes throughout the lifecycle. It is also difficult to make decisions without visibility into requirements. With the Teamcenter requirements management solution, you can allocate requirements to domains or functions, so they are visible to decision-makers in development, test, manufacturing, maintenance and service teams. Everyone can see their role in the development process, make informed decisions to meet product requirements, and plan their work accordingly. You can create a sense of accountability for requirements across your organization, and continuously verify compliance with requirements throughout the product lifecycle.
Mitigate the Risk of Change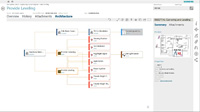 The Teamcenter requirements management solution provides you with visibility into the impact of change, so that you can make the necessary decisions needed to mitigate the risk of product changes that conflict with requirements. Whether you work in engineering, manufacturing, sourcing or service, when your requirements are connected with the rest of your product information in Teamcenter, you can intelligently assess and communicate the impact of a change across the whole product. You can investigate the change from a graphical display of items and all their relationships across the product lifecycle. When a change is made, you can use requirements verification tools to quickly identify if any requirements are no longer being met.