Establish, Measure and Analyze Key Performance Metrics
Over the years, your company has made substantial investments in its IT infrastructure, ranging from packaged enterprise applications (such as ERP, MRP, SFA, CRM, SCM, PDM, PLM, etc.) to legacy systems. Often deployed at the tactical level, in a piecemeal fashion, these systems created "islands of information."
Without visibility to the cumulative knowledge of these systems, you are making business decisions from an isolated point of view. And how can you measure results? With disparate data and IT systems contributing to business processes, corporate performance is hard to gauge. It takes a single source of reporting and analytic information to deliver insight. In fact, if you are leading your industry, your company is three times more likely to measure key performance indicators across projects on at least a monthly basis than your lower performing peers.
Drive Performance at the Business Level
Teamcenter's capabilities for reporting and analytics provide a basis on which to establish, measure and analyze key performance metrics to drive processes throughout the product lifecycle. By swiftly and accurately extracting, aggregating, analyzing and disseminating information from multiple sources, you can measure and make better management decisions to drive key performance indicators throughout your business.
Teamcenter provides you with the tools to collate, analyze, and produce data through ad-hoc reports, program dashboards, and e-mail for real-time sharing of business intelligence.
Key Capabilities and Benefits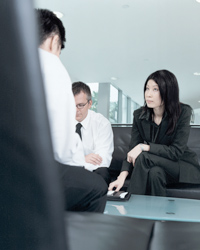 Reporting and Analytics Solution Capabilities
Web-based, easy-to-use system compiles data produced throughout the lifecycle
Data aggregation capabilities bring together multiple data sources into an enterprise information integration solution
Data sourced from virtually any application, honoring that application's security and business conventions
No data warehousing/data mart required
Data snapshots, multiple data viewpoints, advanced scheduler enable trend analysis and efficient processing
Reporting and Analytics Solution Benefits
Establish, measure and analyze key performance metrics to drive processes throughout the lifecycle
Swiftly and accurately extract knowledge across applications
Reduce guesswork and make better decisions
Control costs, assure quality and speed time-to-market
Reduced cost of ownership for business intelligence