Software Design Management
Accelerate product introduction, lower costs and improve quality through integrated ALM and PLM
Today, virtually every industry produces software-driven products, making the integration of application lifecycle management (ALM) and product lifecycle management (PLM) a strategic element of both the embedded and in-product software development processes.
Teamcenter provides software design management by integrating software engineering data and processes with PLM. Leveraging a multi-domain lifecycle integration framework, Teamcenter enables the seamless integration of application lifecycle management (ALM) tools, data and processes.
By definition, embedded software has an intrinsic interdependency with electronics hardware and mechanical parts. With ALM-PLM integration, you can manage, link and trace your software requirements and design objects (functions, test cases, models, etc.) to data from all the interdependent domains. You can better understand all the cross-domain relationships and dependencies in all phases of the product lifecycle. From requirements to delivery and maintenance, you can manage the software lifecycle in the context of the entire product to accelerate product introduction, lower costs and improve quality.
Link and Trace Requirements across Domains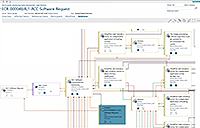 To deliver testable, high-quality systems, your design teams must fully understand the product's requirements and design dependencies across all domains, including mechanical, electronic and software. The Teamcenter integration with ALM provides software design management capabilities to help you manage cross-domain dependencies by linking software requirements and objects with other product data. You can ensure that software requirements satisfy product requirements with bi-directional referencing and access between Teamcenter and ALM requirements. You can trace requirements to product features, functions and test cases across the entire product lifecycle. This level of traceability improves your product quality and test coverage while eliminating the feature creep and unnecessary rework that leads to schedule delays and cost overruns.
Share Data and Gain Visibility
Your company's software development process might use many tools to fulfill different roles, such as requirements management, source code management, software build, modeling, validation and binary distribution. To share data and gain visibility across these tools and processes, the Teamcenter software design management solution supports an open approach to software tool and process integration that enables the closed-loop validation and verification of embedded systems.
Increase Productivity in a Familiar User Environment
Working in either the ALM or PLM environment, this integrated ALM-PLM solution allows software developers to work in a familiar context while data across systems is protected by security access standards. With Teamcenter solutions for software design management you can:
Quickly and effectively search, view and edit data or execute structured workflows and software development processes
Manage released binaries as "parts" the same way you manage other multi-domain design data, and the binaries can be modeled in configurable families and associated with various product configurations
Define and manage the calibration and configuration-related software parameters for embedded systems
Create, view, update, and delete parameter data or group-related parameter definitions together for use across multiple products and variants
Better determine the parameters, algorithms, and function relationships, as well as the type and size of memory that will be required
Assess and Respond Quickly to Change
When you can link and trace software information with the rest of the product, you can intelligently assess the impact of change. Teamcenter software design management solutions deliver a complete set of change information that reflects all aspects and parts included in the change. When changes are necessary, Teamcenter can help you orchestrate a full, multi-domain change management process. You can delegate full and accurate software change information to the appropriate group in the ALM environment. Once initiated, users can access the change object and tasks from within either the ALM environment or Teamcenter. Upon completion of the change, your software engineers can check-in their data so the changes can be tested, approved, released and delivered.
Streamline Operations with Multi-domain Delivery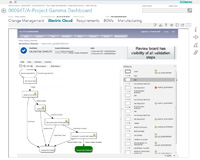 Teamcenter helps your software developers automate and improve the software delivery process. Referred to as "continuous delivery," your company can iteratively and automatically create software builds, run the right test procedures, track defects discovered during test and, if the tests pass, automatically deploy the software to the factory floor or service center. In addition to continuous delivery in the software domain, Teamcenter also helps you adopt an agile development and delivery methodology for the entire product. Managing the data and processes for all the other design domains, Teamcenter enables continuous delivery at a multi-domain product level. By using this closed-loop solution to manage product development, change and compatibility across the matrix of dependent software and hardware components, you can reduce design-to-deliver cycles and provide higher first-time quality.