Simulation Process Management
Manage your simulation processes, data, tools and workflows
The pressure to shorten time-to-market while improving product performance and quality is driving the increased use of simulation throughout the product lifecycle. However, without some form of simulation data management, simulation itself can become a process bottleneck.
The Teamcenter simulation process management solution has been specifically designed to help you get control of your simulation data and processes in the context of an overall product lifecycle management (PLM) system. With Teamcenter, you can avoid common problems such as analyses being performed on obsolete data, poor visibility to simulation results, and results arriving too late to influence design direction. You can efficiently manage and share complex product simulations so they are available to all product decision-makers across your business
Manage CAE Data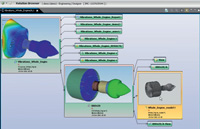 Within the simulation process management solution, Teamcenter provides computer-aided engineering (CAE) data management. Teamcenter manages CAE-specific geometry, meshed models, run ready decks, results, and reports so you can:
Easily find and re-use the right data for your virtual prototypes
Achieve complete traceability from requirements to simulation results
Efficiently build and manage complex CAE assemblies
Visually compare and rapidly update models after design changes, regenerate results, and validate the changes
Streamline and Automate CAE Processes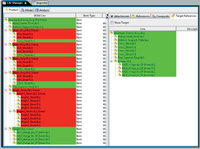 The Teamcenter simulation process management solution can speed up various steps in the CAE process. You can quickly search and retrieve data to build models, use rule-based processes to build CAE structures from the design structure, and automatically generate reports. For complex products, your engineers may use tens or hundreds of different simulation tools to validate performance. With Teamcenter, you have a framework for codeless integration with these tools so that data from Teamcenter can be delivered to the tools. You can capture and store results in Teamcenter with minimal user inputs and with all the correct associations to design and requirements data.
Collaborate and Share Simulation Insights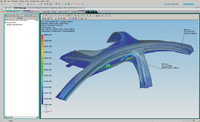 Teamcenter simulation process management provides secure, global access to simulation data so you can share information and collaborate more effectively. You can use standard workflows to initiate, monitor, review and approve digital prototypes to make your programs more effective. With Teamcenter support for the lightweight JT format, your entire team can interactively visualize structural, fluid, and motion results without the need for expert tools.