ECAD Management
Streamline ECAD management, collaboration and validation within your PLM environment
You can integrate your global engineering teams and suppliers by bringing together the electronic computer-aided design (ECAD) data from all your sites within a single product lifecycle management (PLM) system. By using an ECAD management system to capture, share and collaborate in the development of your printed circuit board (PCB) and electrical wire harness designs, you can more accurately validate their readiness for release to manufacturing.
The Teamcenter ECAD management solution provides integrations with all major ECAD systems. You can find the right ECAD data quickly with rich data management capabilities for PCB and wire harness release management. You can eliminate inconsistent and inaccurate ECAD part data by using the enterprise-wide ECAD parts library management. With the ECAD viewer, ECAD-MCAD exchange support and assembly/test analysis tools, you can collaborate closely within and across domains and organizational functions.
Capture, Manage and Find ECAD Design Data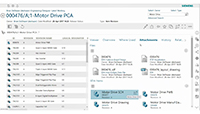 The Teamcenter ECAD management solution provides integrations with PCB design tools from Altium, Cadence, and Mentor. A Gateway for EDA (electric design automation) enables integration with popular wire harness design tools that are developed and supported by partner companies such as EPLAN, Mentor and Zuken. These integrations allow your ECAD design teams to participate in structured workflows, leverage enterprise-wide ECAD part libraries, capture wire harness or PCB design and manufacturing data, and quickly assess the impact of change. Using either a gateway for EDA or an embedded Teamcenter menu, you can easily open, save, check-in and check-out design data. You can also manage the bill of materials (BOM), visualization, fabrication and assembly data. With secure access controls, it is easy for authorized individuals to find, edit or share the right information, right when it's needed.
Establish an Accurate and Consistent ECAD Parts Library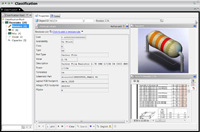 Within the Teamcenter ECAD management solution, the ECAD parts library manager provides a secure source for enterprise-wide management of your ECAD parts data, including attributes and the relationships between these objects. Teamcenter can import, consolidate and manage parts data from multiple ECAD tool libraries. The Teamcenter gateway for EDA libraries creates an integration pathway to library tools that are not currently supported by Teamcenter. As part of the library management process, you can define, manage and link commercial part data, establish vendor relationships and capture environmental compliance documents. To prevent design teams from using unapproved parts, you can establish specific access privileges, processes and procedures for incorporating changes. Your design teams throughout the enterprise have access to accurate and consistent information because the part data can be automatically synchronized with each ECAD tool's local library.
Collaborate Across Domains and Functions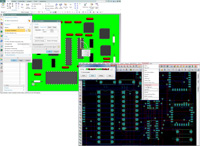 Teamcenter ECAD management makes it easy to collaborate within and across design domains and other functional areas in your company. Leveraging the Incremental Data Exchange (IDX) format (based on the Electrical Data Mechanical Data, or EDMD, data model), mechanical and electrical engineers can communicate and share PCB configuration and design constraint information. You can propose, accept or reject changes, identify and verify incremental changes, or add comments regarding proposed changes. Support for a common ECAD-MCAD parts library definition (with selected MCAD tools) further enhances cross-domain collaboration by enabling 3D visualization of the product assembly. From the ECAD viewer, you can display and graphically navigate schematics and PCB layouts without the need for an ECAD tool. CAE engineers can perform a variety of simulation and analysis functions, such as interferences, thermal, vibration, shock, dust and humidity. Design or manufacturing engineers can interactively view, compare, cross-probe and annotate ECAD design data in the context most familiar to them.
Validate for Release to Manufacturing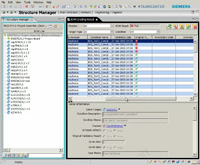 Bridging the gap between layout and manufacturing, the Teamcenter ECAD management solution includes design for assembly (DFA) and design for test (DFT) analysis tools that help you analyze PCB layouts against a host of assembly and test rules early in the design process. You can quickly identify component differences when changes are made to the BOM using compare utilities that graphically highlight all the additions and deletions. To ensure BOM quality and readiness for release to manufacturing, you can use a BOM "grading" capability to define and identify potential issues before sending the release package to manufacturing.