Fast, Flexible Component Modeling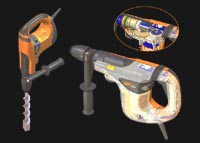 Solid Edge is built on a foundation of superior core modeling and process workflows that help engineers design more rapidly by modeling parts more efficiently than other CAD systems. Solid Edge harnesses the power of Parasolid® - the modeling kernel owned and developed by Siemens PLM Software and, at more than a million licensed seats, the de-facto standard for 3D mechanical CAD. Highly innovative parametric modeling tools allow designers to quickly create basic shapes and easily add common mechanical features like holes, rounds and chamfers, as well as more complex geometry such as draft angles, lofts and helical features. And, for designers of more "stylistic" shapes such as those prevalent in consumer products and many other industries, Solid Edge's revolutionary Rapid Blue technology provides shape design tools that have enormous power and flexibility, while remaining easy to implement and use.
Rapid Blue: A New Paradigm for Shape Design
Solid Edge boosts design productivity for complex geometry with exclusive Rapid Blue technology. With Rapid Blue, you get the shape you want, not the one the CAD system wants to give you. Shape preserving curves retain your original shape even through complex edits. Blue Dot editing introduces an industry first by addressing order dependency and providing significantly more freedom and control for evaluating and manipulating shapes in real time. Complemented by a variety of new process-oriented tools for shape design and dynamic editing, Rapid Blue shatters the barriers of traditional "history based" surface modeling. With significantly fewer steps to create and edit complex shapes, you can evaluate more alternatives in real time and get the design you want.
Process-Specific Features
Solid Edge boosts design productivity of complex geometry with tailored commands and structured workflows that help you design much more quickly than general-purpose modeling tools. Process-specific features are model features that represent forms and functions common in specific industries, such as web networks for plastic parts. Process-specific features have refined capabilities, streamlined to perform with minimal user interaction. Solid Edge's "super features" take this concept to a new level. Features such as cooling vents typically require the creation of multiple profiles and features and are traditionally cumbersome or impossible to model. With Solid Edge, they are created with a single command.