Technology Integration
What's new for Simcenter 3D
The latest release of Simcenter 3D includes brand new enhancements and integrates significant capabilities that were previously available in legacy simulation tools like LMS Virtual.Lab and Samtech Samcef. Integration and expansion of these capabilities into Simcenter 3D's unified, scalable and open environment helps you improve your overall productivity, and gives your organization access to a broad yet deep array of simulation technology.
New in Motion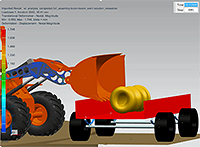 Motion analysis in Simcenter 3D is enhanced to now give you the ability to add working sub-mechanisms within a larger mechanism. This lets you simulate more complex assemblies and systems. Other motion enhancements include new analytical contact definitions that can speed solution time for models where parts come into contact with each other.
New in Acoustics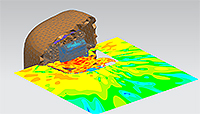 Acoustic analysis in this release of Simcenter 3D introduces acoustic transfer vectors (ATV) that let you efficiently compute vibro-acoustic pressure at microphones. The ATV solution is useful when analyzing large models for many frequencies or rotational speeds. Additional acoustics enhancements include new acoustic sources and acoustic diffusive field as well as new receiver scenario-based capabilities. And a new finite element method adaptive order (FEMAO) option is a higher-order polynomial technique that allows you allows to use coarse meshes with excellent accuracy and reduced computation time.
New in Structural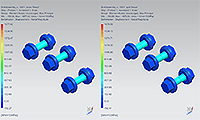 Broadening nonlinear solutions and applications is a major focus for this release. The multi-step nonlinear solution (NX Nastran SOL401) has been enhanced to become a general purpose nonlinear solver by expanding coverage to models with shells, beams, and spring elements. In addition, a new structural nonlinear dynamics solution has also been introduced into NX Nastran as SOL 402, and is supported from the Simcenter 3D interface.
New in Structural Dynamics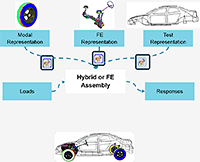 In this release, Simcenter 3D allows for new reduced model representations that you can use as components in finite element assemblies. You can now use reduced representation models from modal and frequency response function (FRF) data that you have gather from either physical testing or analytical means. This means you can create hybrid assemblies consisting of data obtained through simulation and physical tests, and can help you simplify OEM / supplier data exchanges.
New for Flexible Pipes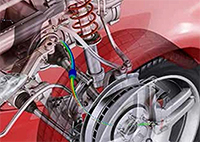 This release of Simcenter 3D introduces a new solution that allows you to perform advanced nonlinear mechanical simulation analyses of various types of flexible hoses and other pipes within the Simcenter 3D environment. This flexible pipe solution can compute the motion cables and hoses that are connected to moving parts – like brake cables in auto suspensions. Simcenter 3D's flexible pipe solution will help you to prevent collision of the pipe with other components and reduce wear and fatigue issues by preventing excessive cable bending and torsion.
New in Flow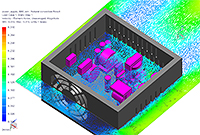 Specific enhancements to the modeling process when using surface wrap for CFD, as well as acoustics applications. The new automatic cavity detection function locates cavities within CAD geometries without user intervention. This significantly reduces user effort in identifying and wrapping cavities in complex CAD geometry. Additional enhancements to surface wrapping that give you more control of wrap resolution.
New in Pre/Post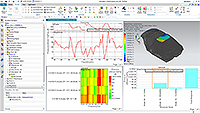 New rule-based, selection recipes can help you improve productivity and automate pre- and postprocessing processes. In addition, new universal connections help you automate the process of connecting components into assemblies used for various kinds of analyses. Finally, new discipline-specific postprocessing helps you quickly display and evaluate the results you need for your specific application.