Supporting Generative Design
What's new in Simcenter 3D
Generative Design is a computational process where a design takes shape based on rapid modification and evolution of design parameters based on performance of that design based on a set of goals. Simulation is a key component of generative design and the latest Simcenter 3D release introduces a number of new capabilities that in combination with NX can help you generate new design ideas.
Convergent modeling for CAE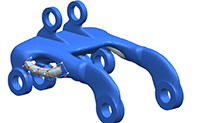 Convergent Modeling™ refers to the ability to edit faceted bodies as if they were typical, boundary representation (b-rep) bodies in CAD. Simcenter 3D now exposes Convergent Modeling within the CAE environment and gives you the ability bring legacy FE mesh data to life. Now you can turn mesh data into a convergent body, which you can then edit and morph into new geometry, remesh and then re-analyze faster.
Analyst-level Topology Optimization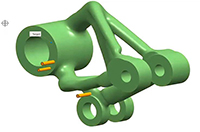 This release of Simcenter 3D adds new topology optimization capabilities powered by NX Nastran that let analysts consider a deeper level of inputs into the shapes they generate. For example, analysts can consider things like multiple load cases, manufacturing constraints, and where to best use lattice structures in the part. Additionally, designers and engineers can then edit the resulting shape from topology optimization through the use of Convergent Modeling for a faster end-to-end process.
Integration with HEEDS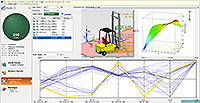 Simcenter 3D can be used in connection with HEEDS for design exploration and generative design processes. The portal from HEEDS will drive Simcenter 3D to make any necessary parameter changes to your analysis models to that simulations can be run and iterated to explore and achieve the defined design objectives.