Enhanced Industry Workflows
What's new in Simcenter 3D
Siemens has decades' worth of experience in industry, and this experience gets reflected back into our products. Simcenter 3D is no different. By maintaining close relationships with our customers and through Siemens' own extensive engineering expertise, we learn and develop simulation best-practices that make their way into every Simcenter 3D solution.
The latest release of Simcenter 3D incorporates new capabilities that enhance industry-specific workflows for airframe, automotive, and spacecraft engineers.
Solutions for Airframe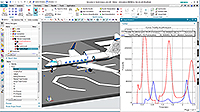 Extending solutions for airframe engineering is a major focus for the latest release Simcenter 3D. For example, you can now create sub-mechanisms within your full aircraft motion model to include individual working subsystems like landing gear. Composites are also critical to airframe engineering, and with Simcenter 3D, you can now more accurately predict how composite material is shaped and performs after its manufacturing processes.
Solutions for Auto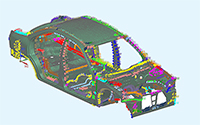 Auto engineers often have multiple variants of the same finite element assembly for different types of analyses like NVH, crash, durability, and more. This can lead to inefficiency and a challenge when updating components within each assembly. This Simcenter 3D release introduces new universal connections that work across solvers and analysis types and simplify your process. Additionally, this release of Simcenter 3D includes capabilities to help suspension engineers efficiently model flexible pipes and hoses like brake lines.
Solutions for Space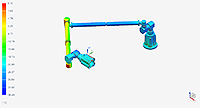 Simcenter 3D provides a complete set of in-orbit thermal analysis tools, and this latest release provides enhanced physical modeling of orbital heat transfer. The degradation of surface thermo-optical properties can be effectively modeled by using up to 5 different values of thermo-optical properties to represent the condition of the spacecraft surfaces from Beginning of Life (BOL) to End of Life (EOL). Further, the variation of planetary heat flux and albedo with longitude and latitude can now be easily defined when computing thermal response of orbiting spacecraft.