Composite Analysis
Simulate the behavior of layered composite analysis structures and their progressive degradation including delamination
In the quest to make products lighter yet stronger, manufacturers are increasing their use of composite materials. It is also prohibitively expensive to create prototypes of products made from composites, so simulation must play a key role in the development of new products using laminate composite materials.
Simcenter 3D is at the leading-edge of composites analysis through continuous development of material models and element types. Simcenter 3D speeds the entire process for simulating laminate composite materials through a seamless connection to composites design, accurate solvers and comprehensive post processing. Using Simcenter 3D you can easily work with dedicated composite modeling in Fibersim as well as composite analysis with NX Nastran and the LMS Samcef solvers.
Additionally, you can leverage the efficient Simcenter 3D environment to build laminate composite analysis models for external solvers, such as Abaqus, Ansys and MSC Nastran.
Efficient Pre- and Post-processing for Composites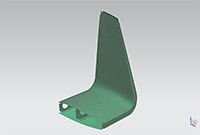 Simcenter 3D speeds analysis modeling for composites. You can quickly create finite element models representing your laminate composite design through a seamless connection to Fibersim to define material layup and properties. Composites analysis models created in Simcenter 3D are fully associative to geometry, allowing easy updating and design changes.

Learn more about
Pre / Post for Laminate composites
Powerful Best of Class Solvers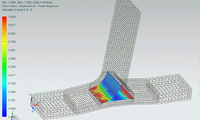 Simcenter offers best-in-class solvers for speed and accuracy to compute results of your laminate composite structures. Simcenter's solvers can analyze various performance attributes of composite structures, such as structural analysis (linear and nonlinear), thermo-mechanical simulation and acoustics.

Learn more about
Simcenter Composites Solvers
Progressive Damage Growth Simulation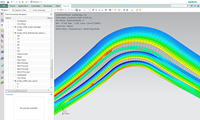 A major challenge to engineering composites structures is to design both the structure and material to fully support the loads that a structure will experience to achieve optimal performance. Composites analysis using Simcenter 3D can help you achieve a damage tolerant, lightweight design. Gained from a decades long relationship with industries that heavily use composite materials, Simcenter 3D integrates the ability to accurately model different damage modes.

Learn more about
Progressive Damage Growth Simulation
Manufacturing Process Simulation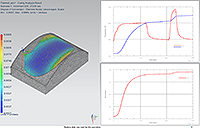 The curing of thermoset composite parts remains a challenging task because it can lead to the development of residual stresses in the manufactured part, leading to poor performances, early damage and distortions. Simcenter 3D has the ability to simulate composites manufacturing phenomena like curing and crystallization so you can design your composite structures to account for spring back effects and residual stresses to achieve optimal performance of your products.

Learn more about
Manufacturing Process Simulation