Acoustics Analysis
Minimize Noise and Optimize Sound Quality
Are your customers expecting quieter products? Are competitors gaining ground by using sound quality as a differentiator? Will tighter noise regulations impact your product sales? Would you like to decrease the time spent on predicting sound fields or shave off weeks on complex jobs like engine run-ups?
In the past, parametric analysis and design refinement was simply not feasible because of cost and time constraints. The only option was to apply expensive techniques late in the development stage at the expense of design flexibility.
Acoustics analysis using Simcenter 3D can help you conquer these challenges. Simcenter 3D offers interior and exterior acoustic analysis within an integrated solution that helps you make informed decisions during the early design stages so you can optimize your product's acoustic performance. Simcenter 3D's unified and scalable modeling environment combined with efficient solvers and easy-to-interpret visualization capabilities enable you to quickly gain insight into the acoustic performance of your product.
Finite Element Acoustics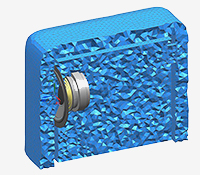 Use the efficiency of the finite element method (FEM) to simulate interior or exterior acoustics performance. Simcenter 3D supports the FEM acoustics solution offered in the NX Nastran finite element solver.

Learn more about Finite Element Acoustics:
Boundary Element Acoustics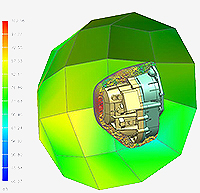 Often used for exterior acoustics problems, the boundary element method (BEM) is ideal for problems involving very complex geometry that may be a challenge to model for the FEM method. Simcenter 3D supports the boundary element method for acoustics for both efficient modeling and solving.

Learn more about Boundary Element Acoustics:
Acoustics Modeling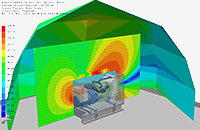 Shorten model preparation time and enhance productivity with custom modeling tools specifically aimed at speeding interior and exterior acoustics simulation processes. Using unique capabilities such as surface wrapping for fast fluid domain creation and the ability to quickly create a convex mesh, you can conquer complex geometry and start your acoustics analysis sooner.

Learn more about Acoustics Modeling: