Product Intelligence Automates Insights
Significantly reduce the cost, time and man-hours spent searching for the source of value chain problems
Product Intelligence is a cloud-based, SaaS MindSphere application (MindApp) that is used to automate insight from product performance data to create actionable intelligence. MindSphere is the cloud-based, open Internet of Things (IoT) operating system from Siemens that connects real things to the digital world and provides powerful industry applications and digital services to drive business success. MindSphere is an open platform as a service (PaaS) that enables a rich partner ecosystem to develop and deliver new applications.
Using Product Intelligence for your big data solutions significantly reduces the cost and time you spend searching for the source of value chain problems, which enables your teams to focus on solutions. Now you can empower your global decision-makers with the intelligence needed to rapidly resolve value chain problems, increase revenue and improve customer satisfaction.
Data Quality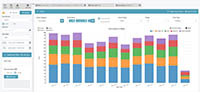 As the volume of data increases, data errors and missing data exponentially magnify data quality issues. Error-filled data contributes to error-filled decisions, which increase risks and poor product performance. Data Quality enables you to validate, rapidly clean and purify big data sources as well as transform them into high-integrity data for accurate decision making. Product Intelligence ensures all data is complete, high quality and unified gives you a trustworthy, comprehensive picture of global product performance.
Performance Analytics

The Performance Analytics feature provides big data insight discovery, analysis and monitoring for the entire value chain. Performance Analytics quickly identifies product issues disrupting the supply chain, manufacturing process or customer experience. The discovery tool runs billions of data combinations in seconds to identify emerging trends and reveal combinations creating data outliers. Discovery can be used to create on-demand charts and reports that give the user unprecedented flexibility and granular analysis so they can interactively change parameters on the fly.
Fast Contextual Search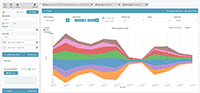 Fast Contextual Search enables you to see all of your unified big data in one place for quick drill downs and investigation of value chain issues. The contextual search results are graphically displayed by occurrence. Each result is also prioritized to easily identify issues causing the greatest impact to your supply chain performance. The detailed search results allow you to spend less time finding the source of product issues and more time resolving them.
Advanced Data Visualization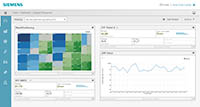 Advanced Data Visualization integrates Tableau® to enable users to create a variety of charts and graphs from layers of complex data sets and key performance indicators (KPIs). By layering multiple KPIs together in a single display, Advanced Data Visualization enables easy comparison of multiple data sources to accurately gauge entire value chain performance. Multiple KPI comparisons allow you to rapidly identify fluctuations in value chain performance and immediately understand the impact on the product and customer.