PLM XML is an emerging Siemens PLM Software format for facilitating product lifecycle interoperability using XML. It is open and based on standard W3C XML schemas. Representing a variety of product data both explicitly and via references, PLM XML provides a lightweight, extensible and flexible mechanism for transporting high-content product data over the Internet, and aims to form the basis of a rich interoperability pipeline connecting Siemens PLM Software products and third party adopter applications.
This section provides information about PLM XML and access to PLM XML resources, specifically the PLM XML schemas and documentation, required to enable developers to introduce PLM XML support into their applications.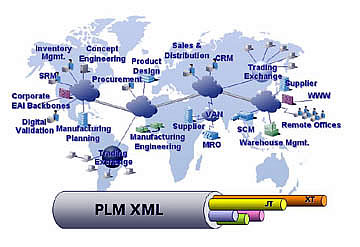 The PLM XML vision: high-content data sharing between applications
Interoperability issues within and between organizations using software applications to conceive, develop, engineer, manufacture, and maintain products cost industry billions of dollars annually. Initiatives to improve interoperability in heterogeneous application environments are therefore of vital importance, and consumers are demanding unprecedented levels of interoperability between PLM software applications to help accelerate critical business process threads, increase ROI, and augment time to market advantage.