Siemens PLM Software supports the vision of seamless exchange of digital product models across enterprises, between different disciplines, using their PLM applications of choice. An important element of this vision is the Parasolid XT Pipeline, a virtual stream of definitive, precise 3D model data, embodied in Parasolid's native open XT file format, which can be accessed by any Parasolid-compatible application from any vendor.
Seamless Exchange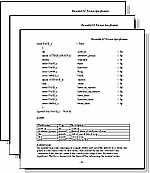 Whereas data translations between different formats can result in loss of geometric integrity and other inaccuracies, exchanging XT data between Parasolid-based applications is translation-free and 100% reliable.
Parasolid is also the industry's most reliable recipient of data imported from other formats. Parasolid's unique Tolerant Modeling technology is intrinsic to all operations, recognizing data anomalies that arise from different tolerance strategies and implicitly compensating for them.
Proven Stability
The ability of Parasolid to read XT data from different Parasolid-based applications is exhaustively tested and proven. Siemens PLM Software runs over a million quality tests on Parasolid every day, and many of these tests use XT data from different releases of Parasolid covering many years of production use. Over 3.5 million seats of Parasolid-enabled software are now in use around the world, and Parasolid XT data is being loaded, processed and exchanged without issue by hundreds of applications on a daily basis.
Pipeline Value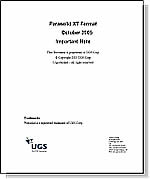 Open Format
To further the vision of the Parasolid Pipeline as the industry standard for precise model data exchange, Siemens PLM Software has published the Parasolid XT file format.