Machine Tool Control
Get the Most out of Your CNC Machine Tool Investment
The computer numerical control (CNC) machine tool is the key component of the part manufacturing process. When the right manufacturing software is matched with the latest CNC controllers and machine tools, you can implement a process chain that delivers maximum performance for your business.
Siemens is an established leader in advanced machine tool control technology. Our combination of software and manufacturing equipment expertise enables us to develop part manufacturing solutions that provide you with unique and powerful advantages.
Siemens Sinumerik Controllers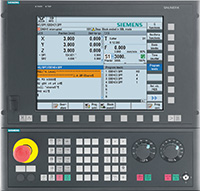 Sinumerik controllers are available on a large number of CNC machine tools. These controllers offer wide range of options - from job shop to advanced aerospace applications. 802D enables efficient machining on standardized turning, milling machines, grinding and nibbling machines. 840D provides the highest possible degree of performance and flexibility for all types of machining, including complex multi-axis systems. The controller software kernel (VNCK) is available to drive advanced machining simulation in NX CAM or virtual machines.
Driving Advanced Options on Sinumerik Controllers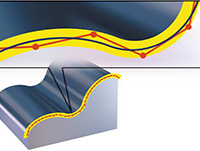 NX CAM provides advanced programming to match the powerful capabilities of Sinumerik controllers. NX combines both automatic and user-selected options to ensure that the postprocessor provides optimized output for Sinumerik controllers in areas such as high-speed cutting and 5-Axis machining. The VNCK software kernel is available with NX CAM as an add-on to provide controller-driven simulation to deliver complete program validation and accurate timing. NX offers a range of postprocessor templates and proven postprocessors to suit wide range of Sinumerik-equipped machine tools.
Working with Other Brands of Controllers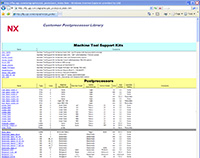 The NX part manufacturing solution can connect to a wide range of shop floor equipment with machine tools from major manufacturers and supports most machining applications including turning, milling, EDM, laser, water jet, milling and advanced mill-turn combinations. NX post builder provides a graphical software tool that you can use to build postprocessors to suit a wide range of machine tool controllers. Many machine tool builders are members of the Siemens PLM Software partner program or customers of Siemens Motion Control Information System (MCIS) and are able to provide assistance with building and testing postprocessors and simulation solutions.
Solution Connectivity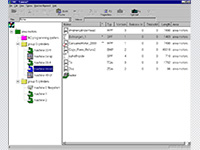 MCIS-DNC can be used as a direct connection from NX CAM. Teamcenter provides a centralized database so that NC programmers, manufacturing engineers, and shop floor operators can share a single source of planning data. MCIS-DNC can interface to Teamcenter for data downloads, but maintains its own database independent of Teamcenter and does not require Teamcenter to run. Shop Floor Connect for Teamcenter is an application that communicates directly with Teamcenter. More than just a DNC system, the connection to the centralized Teamcenter database avoids data duplication and manages revisions to make sure the correct manufacturing data is used on the shop floor.