Programming Productivity in NX
For maximum programming productivity, you can leverage the interactive and intuitive user interface in NX. For example, you can select and move a 3D model of a tool to adjust a tool path. The NX user interface uses graphics with clear annotation to indicate what values are required.
Graphically-Driven Programming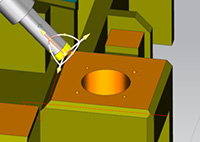 NX encourages you to drive the system graphically as much as possible. It is much faster and more intuitive to control a tool by selecting and moving the 3D tool model on the screen than to type numbers into a dialog box. This "virtual jog" mode enables you to easily create or adjust tool paths in NX.
Intuitive User Interface
You can increase your programming productivity by utilizing the latest user interaction techniques, such as the use of dynamic graphics that provide visual feedback for dialog box options.
The predefined roles in NX enable you to customize your programming environment based on your application and industry. By simply selecting a role, NX automatically displays only the necessary set of functions so you can quickly complete your job.
Operation Navigator
The operation navigator keeps critical information accessible and facilitates re-use. A rich information environment displays the operation sequences and dependencies while tracking tool usage and facilitating associative part data.
Integrated Tutorials and Documentation
NX provides step-by-step tutorials for various programming processes, including die, mill-turn and aerospace machining. NX's search engine allows you to quickly find a command by searching against a keyword.