Programming Automation in NX CAM
Improve Productivity with Process Automation and Feature-Based Machining
Automation makes NC programming faster, more repeatable and it requires less programming expertise to get good results.
You can improve your productivity with the advanced programming automation capabilities in NX CAM. For example, feature based machining (FBM) can reduce NC programming time up to 90 percent.
Feature-Based Machining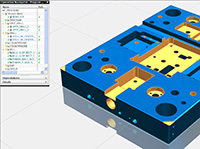 You can automatically create optimized machine programs directly from part design models by using FBM in NX. FBM automatically recognizes and programs a wide range of feature types.
NX can read product and manufacturing information (PMI) that is attached to the model, such as tolerances and surface finish, and drive the selected machining method.
Machining Data Library
NX CAM provides a customizable machining database that enables you to manage and apply proven data to associative tool path operations. NX automatically applies the right feeds and speeds for a given operation and tool selection.
Machining Wizards
For common, everyday tasks, you can build process wizards using easy-to-follow steps. Wizards can make complex software settings based on simple user selections and are easily found in an NX menu.
Process Templates
Process templates can be employed to ensure the use of preferred methods and tooling.