Postprocessing and Simulation in NX CAM
Integrated Postprocessor and Machine Tool Simulation
With NX's integrated postprocessing capabilities, you can generate NC programs for a wide range of CNC machine tools. The machine-ready NC program enables you to reduce lead-times and error rates on the shop floor.
You can validate the NC program with multiple levels of machining simulation in NX. The simulation capabilities range from basic tool path verification to G-code-driven machine tool simulation. These integrated simulation capabilities provide a high level of program validation inside NX CAM.
Postprocessor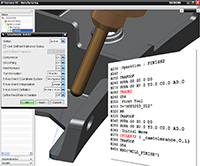 The NX postprocessor is tightly connected to the core CAM system. You can easily generate the required NC code for almost any type of machine tool and controller configuration.
The postprocessor library is an online resource that contains a variety of posts that support a wide range of machine tools. You can access the extensive post library directly from NX.
The NX CAM PostBuilder capability enables you to create and edit postprocessors. Using its graphical user interface, you can easily specify parameters for the required NC codes.
NX CAM also provides an optimized Sinumerik postprocessor that automatically selects key controller settings based on machining operation data. A special menu in NX CAM enables you to specify key functions on the Sinumerik controller.
Machine Tool Simulation
NX CAM provides integrated simulation and verification, which enables you to check tool paths within the NC programming session.
As you create tool paths, tool path verification allows you to visualize the tool path as well as material removal.
Machine tool simulation displays the motion of the machine tool driven from the NC output of the internal NX postprocessor. As G-codes are processed, a 3D model of the machine – with the part, fixtures and tooling – moves in the way the real machine tool will move.