Machinery Part Programming in NX CAM
A Comprehensive Part Programming Solution for Industrial Machinery and Heavy Equipment
NX CAM supports your specific NC part programming needs for industrial machinery and heavy equipment.
This fast and highly accurate machining solution combines familiar CAD/CAM, programming automation and integrated machine tool simulation capabilities with automated, context-specific functions to simplify the creation of smart tool paths for prismatic parts.
Volume-Based 2.5D Milling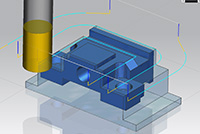 With NX, you can quickly program prismatic parts by previewing and specifying a sequence of volumes to be machined.
The volume-based 2.5D milling processor presents you with the current in-process workpiece (IPW), allows you to pick the defining faces of a machining volume and then displays the calculated cut levels and the updated IPW. The defining faces can include floors, walls, check surfaces and stock surfaces.
Multi-Stage Machining
Milling, turning and mill-turn functions are enhanced with multi-stage IPW capabilities. The programming of parts that require multiple setups is simplified with a stock-sensitive programming capability that automatically tracks the uncut volumes across setups. An instant preview displays uncut volumes for each setup so tool paths are safe and air cuts are eliminated.
Full Range of CAD/CAM Capabilities for Machinery Parts
In addition to optimized operations for machinery part programming, NX gives you a full range of CAD/CAM capabilities:
Advanced NC programming for milling, drilling, turning, mill-turn and wire EDM machines
Feature-based machining (FBM) lets you drastically reduce part programming time
Integrated machine tool simulation verifies programs
Synchronous technology lets you quickly repair imported models
CAD capabilities help you design fixtures and document setups