Integrated CAD/CAM Solution
Fully Integrated CAD Capabilities for the NC Programmer
NX CAM is fully integrated with other NX solutions, allowing NC programmers and manufacturing engineers to associatively access comprehensive design, assembly and drafting tools in a single part manufacturing environment.
The integrated CAD/CAM capabilities allow you to easily manage design changes. You can work with part models, create and assemble fixtures, develop tool paths and even model entire machines for 3D machining simulation in this environment.
Part Model Preparation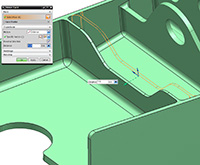 The latest CAD technology in NX enables the NC programmer to rapidly prepare part models, including third-party CAD models. NX offers a set of specialized CAD functions that help you quickly analyze the part before creating the NC operations.
With synchronous technology, you can directly edit the part model and prepare it for NC programming, performing tasks such as closing holes and gaps, offsetting faces and resizing part features.
Master Model Concept
NX's integrated CAD/CAM solution leverages the master model concept to facilitate concurrent design and NC programming by linking all functions, such as CAM and CMM, back to the single model definition of the part. As a result, an NC programmer can start programming a part before the designer is finished. Full associativity ensures subsequent updates of NC operations as the design model changes.
Modeling, Assemblies and Drafting
With NX, you have access to one of the most powerful sets of CAD functions available on the market today. These functions are packaged with NX CAM for the NC programmer who needs to model parts, stock shapes, fixtures or machine tools for simulation.