NX Tooling Design 12
Increase profitability using automated NX12 tool costing
Tooling manufacturers can now automatically and accurately determine tooling production costs using the new integrated capabilities of Siemens PLM Software's solutions. The digitalized process, from 3D part model to detailed cost estimate, can replace the time-consuming manual job tasks to improve your estimates' accuracy. This gives tool manufacturers a unique advantage in this highly-competitive industry.
NX Feature2Cost
You can automatically identify features on molded or stamped parts using NX Feature2Cost. The robust feature recognition capability analyzes 3D part model, recognizes and classifies many types of part features, such as undercuts, ribs and bends. Although fully automated, the software also gives you flexibility to apply your expertise in the process. This can further improve accuracy of the estimated costs.
Teamcenter Product Cost Management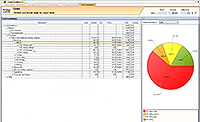 The complete set of recognized features, along with their parameters can be seamlessly transferred to the integrated Teamcenter Product Cost Management software. After providing additional information about material type and machines, the system can precisely calculate the tooling cost. By being able to quickly provide accurate quotations, tooling manufacturers are positioned to win more orders and maximize their profitability.