NX CAM 12
Cut machining time by 60 percent with NX CAM 12 software
New advanced capabilities in NX CAM 12 for mold and die machining, production machining and complex parts machining let companies achieve a new level of efficiency by digitalizing the part manufacturing process.
Mold and die machining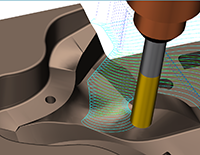 Adaptive milling is a new high-speed cutting strategy that can reduce machining cycle time by up to 60 percent. This intelligent roughing method enables deep cuts and constant tool load that increases material removal rate, while extending tool life. Smooth finishing toolpaths with consistent step-overs across the entire machined area ensures high-quality machined surfaces.
Production machining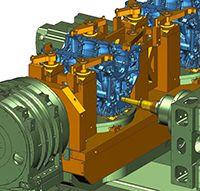 For high-volume production of complicated parts with many features, the new NX Machining Line Planner combined with integrated NX CAM enables distribution, balancing, programming and simulation of operations over multiple setups and machines. By using a digital twin of complete machining lines to optimize the process, automotive and machinery manufacturers can reduce planning time and increase throughput.
Complex parts machining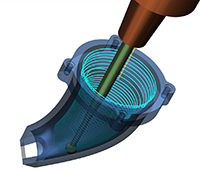 New Tube Milling 5-axis capabilities drastically simplify programming of complex features, including ports of engine blocks and shrouded blisks for turbomachinery. These efficient and safe toolpaths for roughing and finishing ensure high-speed and error-free 5-axis machining. And, the expanded robotics machining capabilities in NX CAM let you program pick-and-place operations, such as machine tending and tool loading operations.