NX Tooling Design 11
Accelerate mold and die design
More effective bill of material (BOM) management, standard component reuse, and improved validation are enhanced capabilities in the latest version of NX Tooling Design to help deliver increased productivity and efficiency.
Efficient BOM Management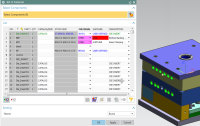 A flexible spreadsheet display of the Bill of Materials (BOM) makes it easier to manage, edit and update the BOM. The spreadsheet display also allows bulk edits for faster updates. The new capabilities can increase your productivity when designing molds and progressive dies with a large number of components.
Standard Component Reuse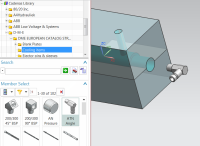 Mold and die design efforts gain great efficiency by utilizing standard components and design features. With NX Tooling Design 11 applications you can drag and drop standard components from the flexible and configurable reuse library. Standard library parts, including your custom components, are stored in the reuse library with improved search capability and family of parts support. Easy access to standard and custom components can significantly accelerate your tooling design.
Improved Validation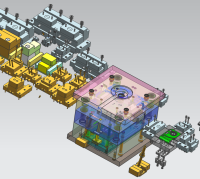 Mold and Die motion visualization helps you verify complex motion more easily with NX 11. You can clearly see additional component actions, including hydraulic components and the action of sliders and lifters. Visualization and validation using the complete digital model of your tooling assembly prevents costly errors in production.