NX CMM 11
Achieve three times faster inspection
NX CMM 11 takes advantage of new technology and automation to allow faster measurement and minimized setup time.
High Speed Inspection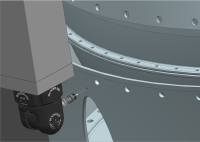 New CMM scanning methods leverage high-speed heads that can "flick" the head to make intermittent touches while scanning surfaces. NX CMM 11 is able to program Renishaw PH20 probes to take advantage of their unique "head touches", even showing the head motion in simulation. These new probes allow measurement points to be taken three times faster.
Programming Automation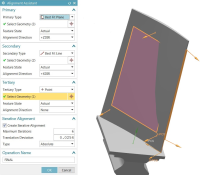 Establishing base coordinate systems and datums for measurement programs is easier than ever with NX 11, as simple geometry selections fix the degrees of freedom until the datum is fully defined – which speeds up the setup of a CMM program.
In aerospace and automotive sheet metal applications, where more traditional features are absent, CMM programs are often based on datum planes attached to surface points. NX 11 greatly speeds up the definition of such datum planes with automatic creation of datum features that can remain associative to the Product Manufacturing Information (PMI).
Inspection Data Analysis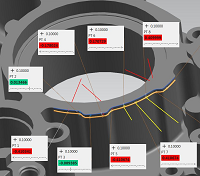 Analysis of measured data in NX CMM Programming is also enhanced, with graphical displays of the measured data right on the part model. Interrogating the model and seeing the results in this context makes it easier to understand the measurement results and efficiently monitor the parts' quality.