Mastertrim Overview
About Mastertrim
While it is critical for manufacturers to get their product to market as quickly as possible, it is not just about speed when it comes to seat and trim covers. They must also consider the aesthetics of the seat covers as that is an important factor in the consumer's long-term comfort and satisfaction with the vehicle. The trim cover is one of the most complex parts of the seat, with over 5,000 pieces of attribute data required to define a typical seat cushion backrest and headrest. Unfortunately, most seat makers and their suppliers still use outmoded methodologies based on the 2D development of seat trim covers to manage all the related design data. Mastertrim makes it possible for manufacturers and their suppliers to work in a 3D CAD environment which allows for full definition of the trim products in a more efficient and productive manner using new 3D software and design methodologies.
Mastertrim enables engineers to design and manufacture innovative seat systems and interior components with increased accuracy and in less time by reducing the reliance on physical prototypes. With Mastertrim, engineers can easily develop and verify designs based on customer requirements for style, safety and comfort by capturing a complete digital product definition of your seats and trim products. With a single data source for all design and manufacturing information, Mastertrim uniquely addresses the entire seat engineering process from styling to production, increasing efficiency while minimizing risk by enabling better-informed decisions throughout the process.
Whether you are a design engineer focused on all aspects of the seat trim cover design, including sew lines, materials, attachments and hardware data for airbags or heating systems, or a manufacturing engineer evaluating the design for producibility issues, such as wrinkling, before the manufacturing process begins, Mastertrim is an essential tool enabling precise and effective authoring and communication of design details. Mastertrim delivers significant time saving across the design-to-manufacturing process by efficiently reducing total engineering costs and prototyping time.
Key Capabilities and Benefits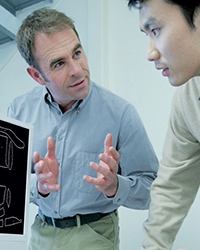 Take advantage of tools that support the entire seat engineering process:
Create a complete digital product definition: Digitally define seat styling and soft-good requirements — including trim cover surface, sew lines and hardware — and automatically share detail across all seat engineering teams
Assess design producibility: Accurately design and digitally simulate how a seat cover fits over the seat to identify producibility issues early in the design process, such as wrinkling based on deformation properties of the chosen material — without needing a prototype
Automatically generate flat patterns and capture downstream design changes: Generate 2D patterns for prototyping and production then easily and accurately capture all downstream alterations and design modifications back into the 3D master model, regardless of format
Generate engineering drawings and data: Automatically create accurate engineering drawings, sewing instructions and bills of materials — at the click of a button — for design documentation, process planning and manufacturing
Accurately analyze part cost: Provide material and labor cost feedback data early in the design cycle to quickly assess the cost effectiveness of design alternatives
Readily access material and part databases: Includes customizable materials, threads and standard parts databases as well as the ability to link to company PLM systems to quickly define all seat cover detailed design features
Maintain full compatibility with current systems: Export flat patterns to all major nesting and cutting systems for a more efficient transition to manufacturing