Noise and Vibration Options
Various NVH options for load identification, road load modeling and modification prediction
LMS Virtual.Lab Noise and Vibration options contain very dedicated noise, vibration and harshness (NVH) solutions that allow you to prepare loads for NVH analysis. You can find dedicated solutions for engine noise and road noise prediction. Some NVH options will help you perform fast modification prediction to quickly study and optimize the effect of small structural modifications on your response. Additionally, you can investigate larger modifications using an optional FE solver.
Load Identification Analysis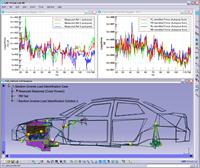 The Load Identification Analysis module calculates operational forces acting on a system using a direct or matrix method (or combination of both). The direct method computes the load by multiplying the difference in operating displacement over a mount by its dynamic stiffness. The inverse method computes loads by multiplying operational responses by an inverse matrix of transfer functions between load and operational response locations. The inverse method can be based on operational vibrations or operational acoustic pressures.
Random NVH Analysis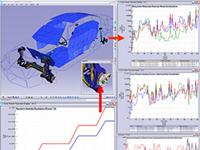 The Random NVH Analysis module deals with partially correlated signals in the frequency domain. The core data structure is based on cross-spectral densities, which you can compute by using random or partially correlated excitation signals. In addition to straightforward response computation, this module enables you to declare references in a cross-spectral density function set and create deterministic referenced spectra for response signals – with or without a principal component analysis (PCA) preprocessing step.
Modification Prediction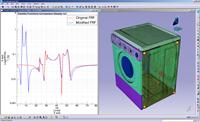 Using the Modification Prediction module, you can define elementary modifications on a modal or frequency response function (FRF) system description. Examples of modification include an addition of a concentrated mass and a tuned absorber in a single point, the connection of two nodes with a stiffener and/or damper or a beam connector. You can use the new modes or FRFs for subsequent analyses.
Panel Modal Modification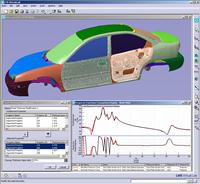 LMS Virtual.Lab Panel Modal Modification helps you investigate the effect of percentage changes of panel thickness on a structure's modal frequencies and shapes. Combined with LMS Virtual.Lab Optimization, you can study the sensitivities of vibro-acoustic responses, such as vibration and pressure response levels, toward thickness changes of different panels and update the structure's panel thickness to meet the required target levels.
FEM Vibro-Acoustics Structural Solver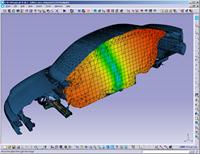 The LMS Virtual.Lab FEM Vibro-Acoustics Structural Solver integrates an extensive library of structural elements for vibro-acoustic simulations. This vibro-acoustics solver contains structural elements for:
0D (such as concentrated mass, rigid body elements/RBE2 and RBE3)
1D (such as rod, beam, spring and bushing)
2D (shells)
3D (solid)
Materials range from standard elastic to orthotropic, visco-elastic and anisotropic. The tool supports various solvers for pure structural or vibro-acoustic analysis.
Single and Multi-attribute Optimization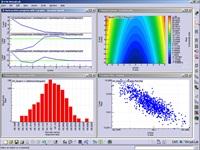 LMS Virtual.Lab Optimization solution provides a set of powerful capabilities for single and multi-attribute optimization. Through design of experiments and response surface modeling techniques, you can rapidly evaluate all possible design options. Using advanced optimization routines including manufacturing for Six Sigma, this module automatically selects the optimal design, accounts for real-world variability and meets the strictest robustness, reliability and quality criteria.