Model Updating
Optimize correlation between test and FE results after selecting parameters from design sensitivity analysis
LMS Virtual.Lab Model Updating is a model correlation and updating tool that improves simulation model quality based on reference data and helps make models that more closely match reality.
Model sensitivity analysis and updating provides:
Easy handling of incompatible geometries when comparing test and FE models
Numerical correlation tools such as modal assurance criterion (MAC), orthogonality check and frequency response assurance criterion (FRAC)
An easy setup of a dedicated Nastran SOL200 case for design sensitivity calculation
Optimization tools
The MAC combined with Nastran® SOL200 sensitivities for mode shapes and eigenfrequencies helps you compute and study MAC and frequency difference sensitivity for mode pair sets. These sensitivities help you obtain the best dynamic match between two models. Model updating can adequately deal with mode switching during the updating process to ensure you use the correct FE shape in correlation with the reference model during the automated updating process.
Model Updating Capabilities
Model Updating provides you with these features: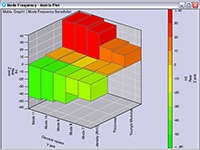 Input design parameters for material and element properties
Dedicated Nastran SOL200 driver
Targets for mass, modal frequencies, MAC and vibration levels
MAC, mode pair table and MAC contribution (MACco)
FRAC
Frequency difference sensitivity and MAC sensitivity
DOE (design of experiments), response surface modeling and several optimization algorithms
Model Updating Benefits
Model Updating helps you:
Confirm FE simulation model validity using measurements
Identify modeling errors and evaluate modeling strategies
Improve FE model reliability with integrated optimization capabilities
Identify the cause of modeling errors
Define system targets and improve simulation models
Improve measurements by defining optimal sensor and excitation device location