ISO Sound Intensity
Effective ISO certification testing based on sound intensity and sound source localization
From the setup, geometry specification and calibration, through measurement and until reporting, LMS Test.Xpress Sound Intensity guides you step by step on how to obtain high quality results according to ISO standards. The display allows to monitor all the critical results such as the ISO field indicators (F1, F2, F3 and F4) at once and shows the calculated levels (sound power, sound intensity and pressure intensity) in a tabular format. The system also suggests corrective actions if the ISO criteria are not met.
The process is completed with detailed reports in Microsoft® Excel® and/or Microsoft Word® that contain all ISO required information. The data from certification measurements can be used for sound source localization including identification and ranking of sound sources.
LMS Test.Xpress ISO Sound Intensity software supports ISO certification testing of sound power based on sound intensity for point (ISO 9614-1) and scanning (ISO 9614-2) methods.
To learn more about the our acoustic testing portfolio, go to our Text.Xpress website. If you are also interested in an extra small and extra smart solution for data acquisition, be sure to check the LMS SCADAS XS.
ISO Sound Intensity Capabilities
ISO Sound Intensity provides: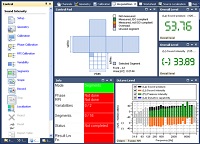 Guided three-step automated measurement procedure according to ISO 9614-1 and ISO 9614-2
Results for use in ISO sound power calculations and sound source localization
On the spot verification of measurement quality according to ISO specifications
ISO Sound Intensity Benefits
The ISO Sound Intensity helps you to: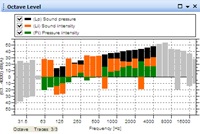 Measure and analyze test objects on-site
Analyze data for both ISO-related testing and troubleshooting tasks
Perform a one-person operation regardless of experience level
Handle simple or complex geometries with guaranteed data quality