LMS Test.Lab Ground Vibration Testing
Perform structural dynamics and modal testing campaigns on aircraft structures
LMS Test.Lab Ground Vibration Testing provides you with a complete solution for performing stepped sine and modal testing. Ground Vibration Testing provides excitation capabilities ranging from random excitation swept sine to stepped sine and normal modes, giving you an abundance of open loop and closed loop excitation possibilities.
The integration of Ground Vibration Testing with LMS SCADAS data acquisition systems significantly shortens the testing time. You can build up to 160 channels on one master frame and up to 168 channels on a slave frame. The combination of master and slave frames connected with optical fiber cables gives you a multi-frame system configuration for more than 400 channels.
Ground Vibration Testing is set up so that a channel configuration can easily carry over from one solution to another. Once the channel setup is defined, all acquisition applications can share the same configuration; you only have to load the appropriate acquisition tool and fix the corresponding parameters to start the measurements. This significantly speeds up the use of different excitation signals when performing a ground vibration test on an aircraft.
Ground Vibration Testing Capabilities
LMS Test.Lab Ground Vibration Testing provides you with these features: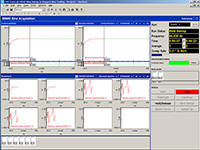 Handles up to 16 exciters
Performs open and closed loop control
Measures transfer functions with random, swept sine and stepped sine excitation
Measures resonance frequency, damping ration and deflection directly with normal mode excitation
Supports nonlinearity study
Ground Vibration Testing Benefits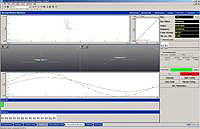 LMS Test.Lab Ground Vibration Testing helps you:
Immediately validate data without switching between applications
Reduce test time with easily recoverable channel setup for all acquisition applications
Take advantage of applications built on the same LMS Test.Lab platform
Generate fast and easy data reporting
Quickly assess nonlinear behavior