Turbine Testing
Efficient, all-digital and user friendly solution for challenging turbine performance verification testing issues
LMS Test.Lab Turbine Testing provides you with a highly advanced and all-digital solution for the difficulties associated with complex turbine testing. Turbines and compressors in jet engines or power plants are subjected to stringent performance verification testing. This testing is very expensive, highly demanding and compulsory for certification. Tests need to be performed properly the first time, measurement data has to be safe and usable and personnel and test object safety must be assured.
Turbine testing presents particular challenges in terms of instrumentation, performance and data management. Not only is there a large variety of turbine transducers, the cabling to different measuring systems is intricate and costly. Since turbines are tested for extreme conditions, your instrumentation needs to be able to withstand these circumstances. Given the delicate testing setup, uninterrupted recording and monitoring of all channels is crucial. This continuous data recording produces very large data sets that need to be shared among your different departments and sites.
Turbine Testing provides you excellent signal quality and maximum flexibility with its digitalized test setup configuration that integrates signal conditioning, offers perfect traceability and is error free. With a few mouse clicks, you can easily reconfigure the entire setup. The network enabled digital recorders with integrated signal conditioning are connected to a gigabit network linked to a server for online data consolidation. Measurement results can be accessed by different departments from various sites.
Turbine Testing Capabilities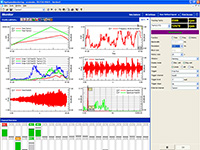 Turbine Testing provides you with these features:
All-digital networked dynamic data acquisition and analysis
Perfect error-free configuration traceability
Easy reconfiguration
Excellent signal quality
Full measurement chain control
Uninterrupted recording of all channels with real-time monitoring
Consolidated data on central server for processing and archiving
Turbine Testing Benefits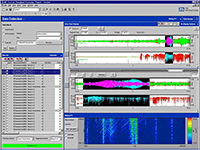 Turbine Testing helps you:
Save time and effort with perfectly integrated data management
Rely on integrated signal conditioning for full data traceability
Maintain a flexible system with unlimited channel count and test duration