In-room Pass-by Noise Testing
Future-proof solution for pass-by noise engineering
LMS Test.Lab In-room Pass-by Noise Testing is a comprehensive, future-proof solution to simulate vehicle pass-by noise in a controlled laboratory environment. Pass-by noise testing in the controlled environment of a semi-anechoic acoustic chamber delivers accurate, weather-independent and repeatable results and offers more possibilities for extensive noise engineering instrumentation.
In-room Pass-by Noise Testing is designed for single person operation and guides you through a step-by-step process from data acquisition to customized reporting. The acoustic noise engineering software calculates the virtual vehicle position based on the provided speed and computes the overall sound pressure level (OAL) as a function of position – identical to exterior pass-by noise testing. The noise testing solution supports two methods for OAL calculation:
Energetic method – Robust calculation with respect to microphone positions
Time-based method – Calculation by synthesizing a time signal based on all measured microphones.
The time signal is equivalent to the one acquired from external pass-by noise measured microphones and excludes the Doppler effect. You can listen to the synthesized signal or use it for further calculation or throughput postprocessing.
In-room Pass-by Noise Testing allows you to measure other signals on the vehicle, resulting in better overall analysis and faster component identification – a significant contributor to overall sound levels. By combining In-room Pass-by Noise Testing with other LMS Test.Lab solutions for sound source localization and source ranking, you can improve your noise contribution analysis and ultimately reduce vehicle development time.
In-room Pass-by Noise Capabilities
In-room Pass-by Noise Testing provides you with these features: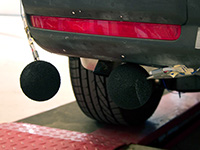 Compliance with industry pass-by noise standards for cars, light vehicles and trucks
Complete support from set-up to automatic reporting
Microphone position validation
Time-data calculation corresponding to outdoor pass-by noise microphone positions
In-room Pass-by Noise Testing Benefits
In-room Pass-by Noise Testing helps you: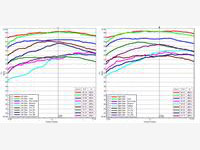 Gain full control of environmental conditions
Increase productivity
Operate with one person
Get virtual microphone results for listening validation and subjective evaluation
Conduct an additional analysis on physical microphone positions and outdoor pass-by noise microphone positions