Exterior Pass-by Noise Testing
Efficient vehicle certification according to ISO 362 and other standards
LMS Test.Lab Exterior Pass-by Noise Testing is designed to help you measure vehicle noise emission levels on an exterior test track. It allows you to efficiently analyze the results in compliance with specific standards, including the latest ISO 362 standards. In many countries pass-by noise certification is required for newly designed road vehicles (cars, trucks, motorcycles, buses from ISO vehicle categories L, M and N).
The Exterior Pass-by Noise Testing solution is highly flexible and scalable allowing you to fine-tune or expand testing requirements. Based on test methodology preferences, the noise testing solution is fit for multi-operator and single operator usage. An intuitive point-and-click interface easily guides you through the measurement process, from pre-testing to reporting. All data is immediately available for trackside viewing, revealing at a glance if the vehicle or component is compliant.
Exterior Pass-by Noise Testing supports a range of standards including:
ISO 362:1998 (UN/ECE regulation 51.02) – the current standard
ISO 362-1:2007 (to be formalized in UN/ECE regulation 51.03) – the new standard
Motorcycle standards ISO 362-2 for vehicle categories L1, L2 and L3 and F76A US
ASEP for light vehicles (category M) and motorcycles (category L)
American SAE standards – SAE J986, SAE J1470 and SAE J366
Exhaust noise – EEC 93/97, ISO 5130 and Trias 20
Next to standard configurations, the Exterior Pass-by Noise Testing system can be configured for dedicated user-defined procedures and specific requirements. In addition, the software supports advanced engineering tasks with its ability to combine and synchronize large amounts of field data.
Exterior Pass-by Noise Testing Capabilities
Exterior Pass-by Noise Testing provides you with the following features: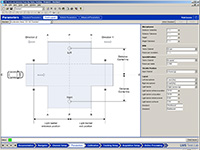 Complete support from set-up to reporting
Online monitoring of sound pressure levels according to track distance and measurement status indicators
In-vehicle graphical interface for monitoring speed, RPM, position and weather conditions
One-person operation
Fully certified system – hardware: IEC 61672:2002 (class 1 sound level meter) norm; position sensing: ISO 362 requirements
Commercial off-the-shelf or customizable solution for industry or customer-specific requirement
Exterior Pass-by Noise Benefits
Exterior Pass-by Noise Testing helps you: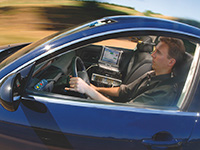 Complete acquisition and reporting package for outdoor pass-by noise homologation and engineering
Optimize testing and analysis time by combining validation and engineering testing with a high-end postprocessing platform
Evaluate effectively and reliably noise levels according to required standards
Implement new standards through its open platform
Generate reports on compliance with a click
Standard Configurations
The following standard configurations are available:
Track-based testing – The LMS SCADAS acquisition system is placed near the test track. This method requires minimal vehicle instrumentation.
In-vehicle testing – The LMS SCADAS acquisition system is placed in the vehicle to acquire additional measurement channels for more in-depth analyses.
For advanced engineering tasks, where large amounts of data must be captured near the track and on the vehicle, above configurations are combined and synchronized.