LMS Soundbrush Software
Real-time 3D sound visualization for fast, accurate acoustic troubleshooting
The refined LMS Soundbrush software is the key to accurate and real-time acoustic troubleshooting. LMS Soundbrush gives you intuitive and logical guidance from setup to reporting and offers unmatched 3D sound visualization of results. Powerful 3D data representation allows you to quickly and accurately interpret the measured data.
LMS Soundbrush gives you real-time 3D sound visualization and the software offers all the tools you need for efficient troubleshooting without any postprocessing. You can view all data results from any possible angle. You can also zoom in on a specific hotspot, run a section plane through the data or filter out specific frequency bands for detailed analysis and reporting.
LMS Soundbrush software is extremely intuitive and uses a logical stepped workflow – from setup to reporting.
Project Gallery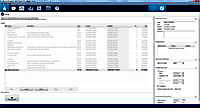 The project gallery summarizes all Soundbrush projects. You can create new sound visualization projects based on predefined templates; retrieve older projects for further analysis, comparison and reporting; or continue the acoustic measurement campaign. The project gallery also enables you to easily share data with other users using the project import and export features.
Define the 3D Setup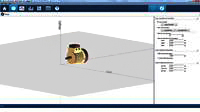 The 3D setup page defines the 3D environment. This is where you can create a 3D CAD model of your test object, simple plane or box with real-life pictures. Additionally, you can set the location of the origin and orientation of the world coordinate system (WCS). This ensures the correct positioning and orientation of the 3D acoustic results related to your 3D model.
Define the Setup Reference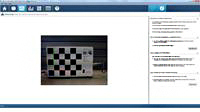 The setup reference page handles the correct positioning of the 3D model relative to the real measurement object, automatically selects a sphere color for best contrast and position detection and resets the acoustic probe so that gyros are aligned with the WCS.
Data Acquisition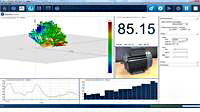 The acquisition page shows you the real-time 3D sound field on top of the 3D object. To improve viewing, you can rotate, zoom in/out and pan the display. Other displays show instantaneous sound pressure or sound intensity level, level over time and octave or narrow band frequencies. A video display shows the live images from the probe camera as recorded during the acquisition.
Analysis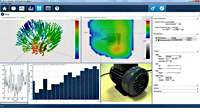 The analysis page displays measured 3D sound field on top of the 3D object. The octave or narrow band spectra and recorded images of the probe camera are displayed for a selected measurement point. The sound pressure or sound intensity level is displayed for the complete measurement run. Activating a section plane in the 3D display automatically shows the interpolated results in a 2D representation with the test object.
Reporting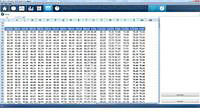 The reporting page seamlessly exports the selected data to Microsoft® Excel®, which is embedded. The automatically generated Excel report contains a copy of all analysis displays and tabular results of each measurement point (position, orientation, overall level, overall frequency and octave spectrum). You can manually copy/paste any display to the clipboard for fast reporting in Microsoft Office® applications.