LMS Soundbrush Hardware
Plug-and-play hardware with integrated sound probe brings unmatched user comfort and efficiency to acoustic troubleshooting
The LMS Soundbrush hardware allows you to easily solve an acoustic problem. The core of the LMS Soundbrush hardware is the handheld USB sound probe. Simply add a sound pressure microphone or a 3D intensity sensor and – thanks to its tracking camera – you can start measuring and monitoring the sound on your PC.
The sound probe contains the data acquisition units and includes a sphere illuminated with color so its position can automatically be determined by the tracking camera. An inertial platform provides a 3D orientation of the sound probe.
As long as the camera can track the sphere, you can move the sound probe around the test object in any orientation or position. The Soundbrush system will always detect the position of the acoustic sensors as well as the direction of the intensity vector. Push buttons allow full control of the measurement process and LEDs provide online feedback on hardware status, measurement levels and position tracking. While measuring, images are stored with the data for documentation purposes.
Integrated Acoustic Probe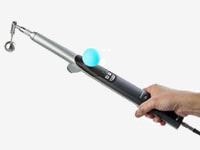 The LMS Soundbrush data acquisition unit is embedded in the acoustic probe. The acoustic probe contains a sphere that is illuminated with a color so the tracking camera can determine its position. An inertial platform automatically provides a 3D orientation of the acoustic probe.
Click-on and Measure Antenna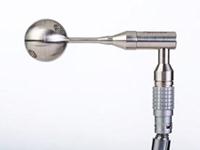 The antenna's microchip stores all the necessary data on antenna type, calibration values, position offset versus the sound probe and more. As a result, the LMS Soundbrush software automatically configures for the antenna type when connected to the sound probe. Just plug your antenna into the sound probe's latching connector and you are ready to proceed.
Tracking Camera for Robust, Precise Probe Detection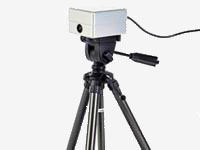 The tracking camera allows you to accurately detect the X, Y and Z position of the LMS Soundbrush probe. The camera detects the illuminated sphere on the sound probe which is automatically set to a color that has the highest contrast with the environment.
Foolproof, Sturdy Soundbrush Reference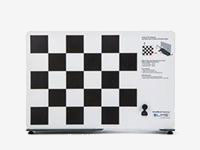 The reference object enables you to correctly position the test object into the software environment, using a white plate with a chessboard pattern. The plate slides into a base that simultaneously acts as a holder for the LMS Soundbrush probe when not in use.
All-in-One Box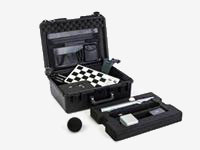 LMS Soundbrush offers you a complete solution for acoustic troubleshooting that does not require any additional measurement hardware or analysis software. All items fit inside a single travel case and can be hand carried. You can easily use LMS Soundbrush in remote locations, which makes it an ideal tool for field measurements.