LMS Samtech Samcef Wind Turbines
Advanced computation platform dedicated to wind turbine simulation, design and validation.
From the early stages in the wind turbine design process to the prototype wind turbine simulation, the LMS Samtech Samcef Wind Turbines approach exceeds current certification requirements. LMS Samcef Wind Turbines brings coherence to your wind turbine design process by providing a common interface to various engineering disciplines.
With a combination of dedicated graphical user interfaces and complemented with LMS Samcef Nonlinear Motion, a high performance solver, LMS Samcef Wind Turbines is perfectly suited to simulate flexible dynamics phenomena with high accuracy.
Open Scalable Platform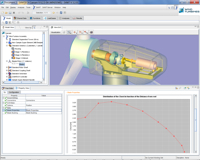 The versatility of LMS Samcef Wind Turbines allows you to analyze the behavior of any wind turbine concept. You can build simulation models using the predefined parametric models and/or integrate new components and subassemblies. Based on the LMS Samtech Caesam platform, LMS Samcef Wind Turbines facilitates a coherent engineering process – from concepts to component details – to produce a high fidelity model that you can exercise extensively for design and certification purposes.
Early Design Maturity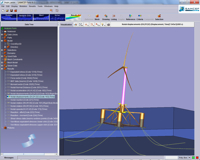 LMS Samcef Wind Turbines provides fully coupled simulations of the mechatronic wind turbine system. The wind turbine model contains:
Aerodynamic, hydrodynamic and hydrostatic loads
Finite element components
Multibody elements
Controller
The implementation of LMS Samcef Wind Turbines allows a change of paradigm – permitting you to perform load computation on models using different levels of accuracy at different stages of the design process. As a consequence, the solution enables wind turbine component optimization and allows you to predict potential vibration issues early in the design stage.
Component Sizing and Optimization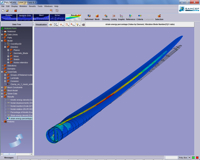 Blades, tower, nacelle, bedplate, drive train, yaw and pitch mechanisms can be analyzed in great detail within LMS Samcef Wind Turbines.
LMS Samcef Nonlinear Motion is an implicit nonlinear finite element solver that includes multibody simulation elements. The solution is built to solve models comprised of millions of degrees of freedom, large rotations and strong nonlinearities.