LMS Samcef Nonlinear Motion Analysis
Motion analysis for kinematic and dynamic behavior of flexible and articulated mechanisms
LMS Samtech Samcef Nonlinear Motion enables you to model any articulated mechanism in a transient simulation and improve the dynamic properties of the mechanism. The model can be created by nonlinear flexible beams, super elements or rigid bodies linked through rigid or flexible kinematic joints (such as hinges, sliders, gears and universals) as well as specific elements (such as wheels and general nonlinear forces). The relative motion in the kinematic joints can be controlled by a number of functions including springs, dampers, contacts and prescribed movements.
LMS Samcef Nonlinear Motion analysis is often used for predesign purposes and for applications in which components are assumed to be rigid or replaced by beams. You can compute dynamic loads of mechanisms and use the results as input for local structural analysis.
This multibody approach is based on an implicit finite element theory. Combined with the LMS Samcef Nonlinear Structural Analysis module, the nonlinear motion solution lets you replace rigid bodies with meshed flexible components. This process allows you to take into account local nonlinearities such as pre-stressed components, contact friction between two flexible components and hyperelastic materials.
LMS Samcef Nonlinear Motion Capabilities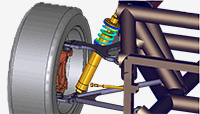 LMS Samcef Nonlinear Motion provides you with these features:
Definition of articulated mechanisms
Robust solver including stabilized integration schemes (variants of the Newmark method)
Automatic management of time steps
Ability to link with a nonlinear structural finite element formulation
Ability to combine nonlinear meshed bodies to build a unique model of a flexible mechanism
Static, kinematic and dynamic analysis
LMS Samcef Nonlinear Motion Benefits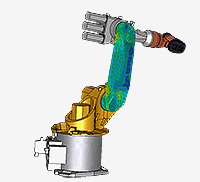 LMS Samcef Nonlinear Motion helps you:
Assess and control the vibration level acting on your structures and inducing fatigue phenomena
Accurately understand what happens during complex kinematic moves
Soften the kinematic joint movements and improve your designs
Increase the lifespan of structures