LMS Samcef Linear Structural Analysis
Linear static analysis, modal, buckling, dynamic response and random vibration analysis for any structure type
LMS Samtech Samcef Structure Linear provides a large library of finite element solvers, combined with a wide selection of loads and boundary conditions, to provide you with a best-in-class modeling tool. The linear structural analysis solution includes a complete selection of single or multilayer elements whose materials can be isotropic, orthotropic, anisotropic or composite. Elements can be solid, shell, membrane, beam (in the context of plane stresses), plane strains, axisymmetric with original multiharmonic shape functions, 3D cyclic symmetry or full 3D formulation.
The powerful finite element solvers in LMS Samcef help you avoid issues with large sizes on a standard computer as well as in a high performance computing environment. In addition, some chaining capabilities are available in the suite of finite element solvers to perform analyses after a static analysis or modal analysis.
Linear Static Analysis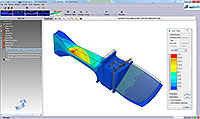 Linear Static Analysis with LMS Samcef can easily take into account small sliding contact conditions. You can apply any kind of nodal or distributed loads, such as mechanical or thermal (resulting from a thermal analysis). The linear structural analysis solution enables you to take into account second-order effects, such as geometric stiffness due to a pre-stress or centrifugal force effect.
Buckling Analysis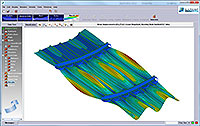 Buckling Analysis with LMS Samcef lets you apply the Euler method to stability problems. After a linear static analysis, the buckling solution provides you with the critical loading factor. Combined with nonlinear analysis, the Buckling Analysis solution can give the critical factor of an incremental load applied to the structure. The solution also shows loading effects in a constant part (such as weight) and a proportional part (such as the effect of wind).
Modal Analysis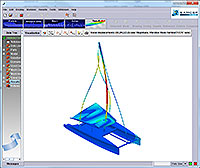 Modal Analysis with LMS Samcef computes natural frequencies and vibration modes as well as deformed shapes and corresponding modal stresses. It allows substructuring techniques within LMS Samcef or by import/export from or to standard commercial codes. You can also analyze structures with cyclic-symmetry with different sector angles.
Dynamic Response Analysis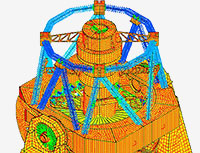 Dynamic Response Analysis with LMS Samcef computes the linear dynamic response of a structure in both frequency and time domains. Excitation includes prescribed loads and motions, initial positions and speeds. Whether a function of time or frequency, the load's description can be directly created or imported from Microsoft® Excel® files. All types of dampings are available: viscous, modal, hysteretic and local.
Random Vibration Analysis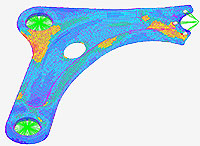 Random Vibration Analysis with LMS Samcef handles the computation of a dynamic response to stationary random loading or distributed loads with spatial coherence (such as seismic events and launcher takeoff). The analysis is based on a statistical approach and the power spectral density technique. A fatigue life analysis can be implemented if the material data is adapted to it.