LMS Samtech Caesam
Unique integration platform to harmonize and federate the structural analysis process, methods and tools
Most aeronautic, space and defense (ASD) companies face certain fundamental challenges in structural engineering departments due to increased complexity in products and ever increasing demands for safety and certification.
ASD companies face three main hurdles:
Effective global collaboration while ensuring consistency and traceability
High performance development for reduced time-to-market
Knowledge capitalization through harmonization of methods, processes and tools
LMS Samtech Caesam is an integration platform that addresses these challenges by providing a unique platform that allows you to harmonize and federate the structural analysis process, methods and tools. The solution incorporates a unique data model that allows data to be shared within and across CAE analysis disciplines. Out-of-the-box preprocessing and postprocessing features in LMS Caesam focus on the aerospace industry – allowing extensive automation and giving engineers more time to spend on enhanced engineering aspects.
Open and Highly Customizable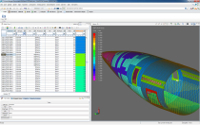 LMS Samtech Caesam is an integration framework that:
Allows integration of customer knowledge, methods and best practices
Fits into the ecosystem of the company
Includes features that help customize the framework for creating a solution based on your process and requirements
Offers an intuitive GUI that can be customized as needed
Data Model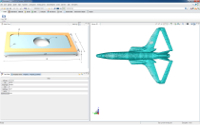 The data model in LMS Caesam provides a basis to build a synthetic, consistent and structured common analysis model. This analysis model encapsulates all geometric, loads and results data for the particular structure and acts as the basis for improved consistency and traceability for all input and outputs.
Parametric Design and Optimization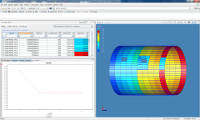 LMS Caesam has an iterative design engine that you can use to study the effect that varying certain design parameters has on end results. You can also use the multitude of built-in optimization algorithms as a way to find the most suitable design for achieving the required strength with minimum weight.
Preprocessing and Postprocessing Capabilities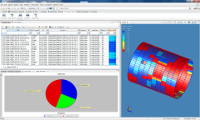 LMS Caesam includes a large set of preprocessing and postprocessing capabilities to:
Efficiently deal with large data sets required in the aerospace industry
Sort/select/group input and output data
Visualize all data through multiple means such as table plots, chat plots, 3D plots
Visualize critical results including FEA results
Display data in Microsoft® Excel® (all table data can be imported and exported to Excel)
Preprocessing examples include load visualization, load case sorting and selection by means of specific interfaces.
Scalable Platform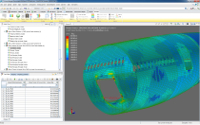 The platform can be used to create a vertical application to address a specific need and then it can be extended to an enterprise level solution to meet the needs of the full design process.