Two-phase Flow Simulation
Model complex system networks with fluid phase changes
The LMS Imagine.Lab Two-phase Flow simulation solution enables you to model complex system networks where the fluid undergoes phase changes such as air-conditioning systems, heat pumps or Rankine cycle. This flow simulation solution is based on a lumped transient heat transfer approach to compute:
Energy transport through the system
Internal flow convective heat exchanges in single or two-phase conditions
Pressure losses, temperature levels, mass flow rate and enthalpy flow rate distribution
Gas mass fraction evolutions in the system
Mass transfer between the vapor and liquid phase
External flow convective heat exchanges (such as wall/moist air) including the influence of water vapor condensation
The two-phase flow simulation solution is based on a basic element approach so you can model a maximum of two-phase flow network configurations from a minimum set of components. The two-phase flow simulation solution allows you to model real transient behavior with compressor stopped conditions and realistic thermodynamic behavior. A complete modeling methodology helps you build and adapt for stop and start applications.
Two-phase Flow Capabilities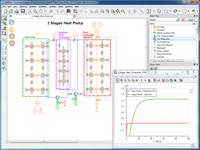 Two-phase Flow provides you with these features:
Transient and steady-state system simulation based on the physics of two-phase flows
Description of the refrigerant thermodynamic properties from modified Benedict-Webb-Rubin (mBWR), ECS or Helmoltz equations of state including a refrigerant fluids database
State-of-the-art theory for the calculation of single phase and two-phase pressure
Internal convective heat transfer modeling and external flow convective heat transfer with moist air (such as evolution of the air humidity, influence of water vapor condensation on the heat transfer and calculation of condensed water vapor mass flow rate)
Integrated thermodynamic plot to visualize and animate pressure volume (P-V), temperature entropy (T-s), pressure temperature (P-T) and pressure enthalpy (P-H) diagrams.
Two-phase Flow Benefits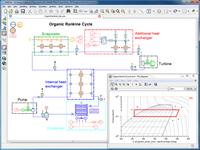 Two-phase Flow helps you:
Use an efficient and low-cost alternative to prototyping or test rigging
Optimize mass of refrigerant in the loop
Anticipate architecture changes on potential efficiency gains